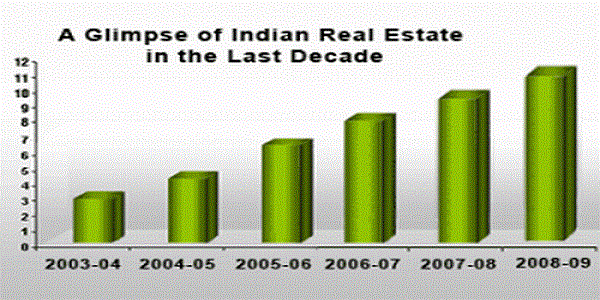 The Real Estate Scenario in India has gone through major upheavals in the last decade. Since the Real Estate sector affects other industries and the economy, therefore these changes have definitely contributed to the growth and development of the country. Considered to be the fastest growing sectors in India, Real Estate development has in turn led to the substantial growth of employment opportunities across the nation, with the metropolitan cities being majorly affected.
Returns from this sector have been analyzed to be around 14% on a yearly basis, which continue to increase in the coming years. According to the RESIDEX that tracks realty growth, the metropolitan cities of Delhi, Kolkata, Mumbai and Bangalore have shown progress in different segments of real estate over time. There are several factors responsible for this growth, and here we will discuss the major points.
If we talk about the commercial segment, then a BPO industry can be considered as a major contributor to this growth, with many MNCs and off-shore companies building their establishments in India.
As for the residential segment, the price rise in the middle of the decade was responsible for turning many people away from investing in this segment. But this was later turned around with the introduction of major steps taken by the government that included relaxation on the interest rates for housing loans and considerable infrastructural development. The designing of housing complexes has changed too, with many apartment style residences being constructed due to lack of space.
The hospitality industry was also responsible for much growth owing to the flourishing tourism industry. India was positioned as a lucrative destination for realty investment for the foreign buyers.
An important change came through the FDI Policy in 2006, when the government decided to allow 100% foreign direct investment, opening up a host of opportunities. The manifold consequences were seen in sizeable developments taking place across the nation like:
Increased investment in townships
Housing and built-up infrastructure
Construction development projects
Recreational facilities
City and regional level infrastructure
Around this time, people also started buying property not for their own use, but to get it at cheaper rates, only to be divested later on. With the rising prices, this practice is still continuing due to substantial returns received by the investors.
The last decade saw the emergence of many big and small real estate builders of Industrial and Commercial property, which in turn led to the growth in these sectors as well. The past few years have shaped the real estate market from an unorganized sector into an organized one, which is a big boost for its growth. The coming years will see expansion, with the trend of price rise set to continue even further.