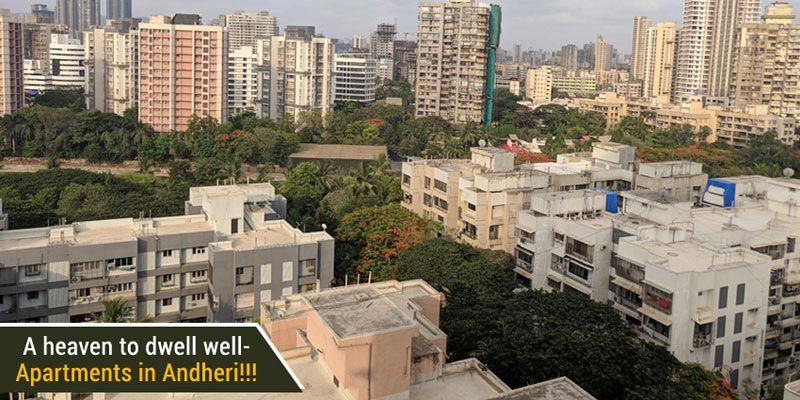 Mumbai city, the propelling and lively financial capital of India is famous for its prolific film fraternity and heavy rains, has always been facing the scarcity of space for accommodation. That's one reason people are moving to nearby places where they can find spacious accommodations in much lesser price. One such proliferating city that is gaining high popularity is Andheri. In the pasts, Andheri, recognised as the 'suburban district', was immersed by Mumbai city as Greater Bombay. Nonetheless, the uptown has invigorated since the early 2000's and has appeared as one of the prime residential & commercial real estate termini in the country.
Andheri is one of the prime areas of Mumbai and is well-connected to maximum of the places in Mumbai. Though, the eastern side was primarily acknowledged only for MIDC and SEEPZ, but currently the scenario has changed as the area abodes some big media houses, corporate names, and IT companies. Scoring high on connectivity through the Western Express Highway and aboding the middle and upper-middle-class strata due to its lower property prices, Andheri has become the focal point of many residential complexes.
Manifestation of the metro rail and its juxtaposition to the Western as well as Eastern Express Highways, make it comfortable to reach any part of Mumbai. Furthermore, it is also nearby to the international airport.
The region is observing a rapid surge in population in the past few years, owing to its propinquity to numerous renowned employment hubs, such as SEEPZ, Bandra-Kurla Complex, Film and television studios naming, Yashraj, Balaji Telefilms, Sahara TV, Sony Entertainment, and NDTV. Talking about the development in infrastructure of the city, the latest development plan has the maximum number of plans, surpassing 400, with outsized plots and amusement grounds, thus making more scope of infrastructural expansions in the near future.
The infrastructure of the city is developing rapidly. Many real estate developers have come up with societies having an array of apartments in Andheri. With renowned school, hospitals and all basic amenities available, many families are seeking accommodation in the city. These apartments in Andheri guarantee a privileged life with perfect transport connectivity due to its juxtaposition to metro, railway stations, flyovers and highways. It proposes an array of amazingly spacious 2BHK, 3BHK and 4BHK in Andheri's premium location. Apartments in Andheri, Mumbai has following facilities available catching the eyes of many who prefer to live in sophisticated surroundings:
The never-ending issue of water scarcity in Mumbai is merely an issue in Andheri as the societies has the facility of build-in water reservoirs to resolve this crucial issue.
The 2BHK flats and apartments hold all the required documents and occupation certificates to avoid legal issues while renting the apartments.
All variety of apartments is available such as unfurnished, semi-furnished and fully furnished to meet the various demands of the expats.
Those who want to move in with their families don't have to compromise on education of their children, as there are few renowned schools located within Andheri.
Almost every society in Andheri has its private gym, playground, sit outs and swimming pool to facilitate its residents.
Twenty-four hour backup for long load shedding is available.
The apartments in Andheri are designed with modern architecture giving an edge of style and class to the space.
Covered parking lots are available with specified parking allotments to the residents.
The apartments are accessorized with trendy floor fittings and modern kitchen cabinets and other amenities for an easy living.
A team of smart and active security personnel is inducted for complete security of the residents.
Another benefit of residing in Andheri is easy access to the high way.
Various shopping complexes that are at walking distance surround these apartments.
Hence, we can clearly state that the apartments in Andheri are one stop destination for all the expats as well as Mumbaikers who are seeking for a classy accommodation in serene surroundings.