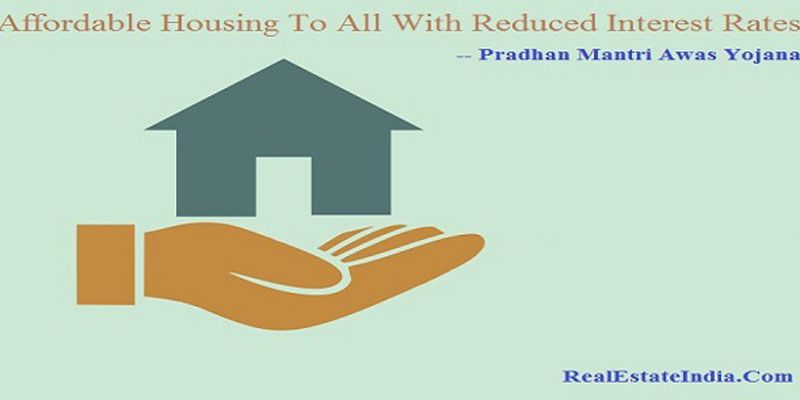 P.M. Narendra Modi is known for his great speeches (and the surprise announcements he make). When he addressed the nation on New Years' Eve this year, he bestowed the people of middle income group with the best New Year gift they could have ever expected. The reduced interest rates that he announced with respect to his Pradhan Mantri Awas Yojana would definitely trigger the home buying process for a number of potential buyers belonging to this stratum.
Here is a quick guide about what all you need to know about this latest addition in the Pradhan Mantri Awas Yojana and how you can benefit from it.
What Was The Actual Scheme?
Prime Minister Narendra Modi announced the Pradhan Mantri Awas Yojana on 25th June, 2015. This scheme is P.M. Modi's initiative to provide "Affordable Housing To All By 2022". It would enable the urban as well as the rural poor of the country to fulfill their dream of having a house of their own. The country would be gifted with 2 crore + houses as part of this scheme.
According to this scheme, people belonging to the Lower Income Group (LIG) or Economically Weaker Section (EWS) could get a subsidy of Rs.1 lakh to Rs.2.30 lakh. People could also get a subsidy on the interest rate of up to 6.5% for a loan of Rs.6 lakhs. This scheme is for the people belonging to EWS, LIG, females or first time home buyers. This interest rebate would last for 15 years.
What Is The New Scheme?
According to the announcement made by P.M. Modi on New Year's Eve, the subsidy on interest rate would be increased to allow more people to get their dream house. He addressed the keen audience that night and surprised everyone with his new scheme. With this new scheme he took a step forward in fulfilling his mission of "Affordable Housing To All By 2022".
According to this new scheme, all the poor and middle income group people would enjoy a rebate on interest rate. People seeking loan up to Rs.9 lakhs would get a subsidy of 4% while those seeking a loan of up to Rs.12 lakhs can enjoy 3% reduced interest rate. Apart from that, people living in rural areas would get 3% subvention on loan amount of Rs.2 lakhs which they can use for house renovation or extension.
Who Are Eligible For This Interest Rebate?
According to the affordable housing scheme people who are eligible to apply for the loan are given below.
Applicant should either be a woman or belong to SC, ST or EWS group for the earlier scheme.
None of the family members had taken a home loan; members including husband, wife and unmarried children
Income should be under Rs.3 lakhs per annum and Rs. 6 lakhs per annum for EWS and LIG respectively
For the new scheme for MIG groups, the income should be under Rs.18 lakhs per annum.
The age of the applicant should be between 21 years and 55 years.
Effect Of This Scheme
The Pradhan Mantri Awas Yojana has been instrumental in keeping up with its affordable housing goal till now. With the announcement of further interest rebate, people would now eagerly avail this scheme. This interest rebate would reduce the EMI by around 40%. After this scheme, the Equated Monthly Installment would round up to Rs.7100 which would be less than even a month's rent.
While the earlier scheme was only for the people belonging to the lower income group and EWS, this new scheme would benefit the people of middle income group as well. Now they would also be able to buy house in India or even property in the metro cities like Delhi or Mumbai without much financial problem.