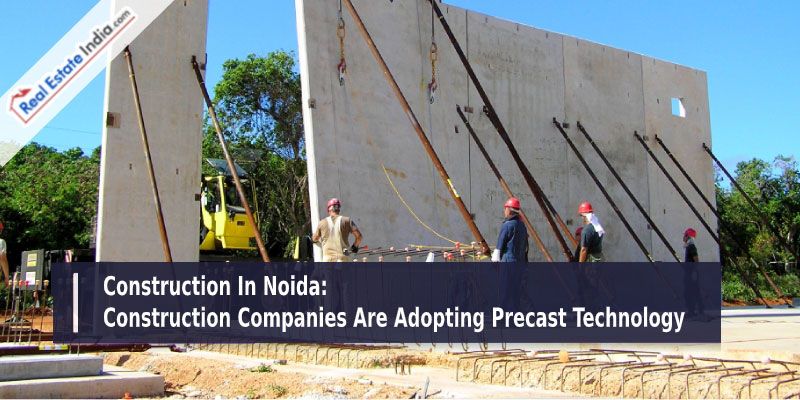 Introduction
Construction companies in Noida are increasing with each passing day. And if we talk about the tackling of the increasing input costs, labour crunch and time delays in concluding realty projects as well as developers of Noida and Greater Noida hamlets are adapting all the modern construction tricks and technique. So to name a few construction companies in Noida, Amrapali, Gaursons developers and Supertech have adopted the precast. So much so that these companies and many other prominent construction companies have opened their own precast factory at Greater Noida.
The budding use of precast technology in construction
Have you wondered why precast technology is gaining popularity? Well, let us answer this for you. Precast technology assistances in making adapted and personalised precast concrete components such as beams, columns, roof slabs, wall panels, etc. All these aforementioned apparatuses are made or caste in factories and built at the construction sites with the help of tower cranes.
Right from the mouth of experts and CEOs:
As far as the experts of the construction companies or the CEO of biggies are concerned, Santhosh Kumar, CEO - Operations, Jones Lang LaSalle India had talked about the precast construction technology and was quoted as saying, "Precast construction technology is definitely more cost effective. As such, it is an important step forward in terms of making budget housing available within reasonable timelines. The implied benefits can certainly be passed on to the end consumer."
More so, construction company named, Supertech has now hired professionals and experts from Australia and Finland where precast and jump form technologies originated. Emphasising on the sa,me and talking about it, managing director of Supertech lately retorted, "Supertech is now comfortably poised to deliver 50 million sq ft of residential apartments in north India in next five years. Both technologies would be beneficial as they are economical and will save around 15 to 20 percent of construction cost and 40 percent time, ensuring better quality and strength as compared to conventional method of construction."
The best usage of precast technology
It is to be noted here that precast technology is best suited in constructing multi-storey buildings as well as related independent houses. On the other hand jump form technology is used for the construction of high-rise buildings. In addition to this, it is worth mentioning that the hydraulic-based arrangement can build a single floor within 6-7 days.
The construction company in Noida, Supertech is using precast technology for erecting Eco Village-1, Eco Village-2 & Eco Village-3 in Greater Noida West (Noida Extension) and two 100-acre townships - Upcountry & Golf Country at Yamuna Expressway. On the other hand, jump form technology will be made use to erect India's tallest mixed-use development Spira at Supernova, Noida.
Why using precast technology is gaining popularity?
All the developers of Noida are keeping pace with the rat race in taking control of varied factors influencing construction costs. In the words of Nishant Mukul, director-technical, Amrapali Group, "Looking at the demand scenario in NCR, the use of technologies that speed up the construction process is the need of the hour. Precast is being increasingly used by developers because it allows work in a controlled environment, thereby cutting down construction cost by 10 to 15 percent along with negligible pilferage. And all these benefits will obviously help developers to pass it on to the customers." He had further gone on to add, "Such technologies are environment-friendly too, as the waste is recycled and not dumped nearby."
What's you take on this increasing use of precast technology? Do share your views in the comments section below!