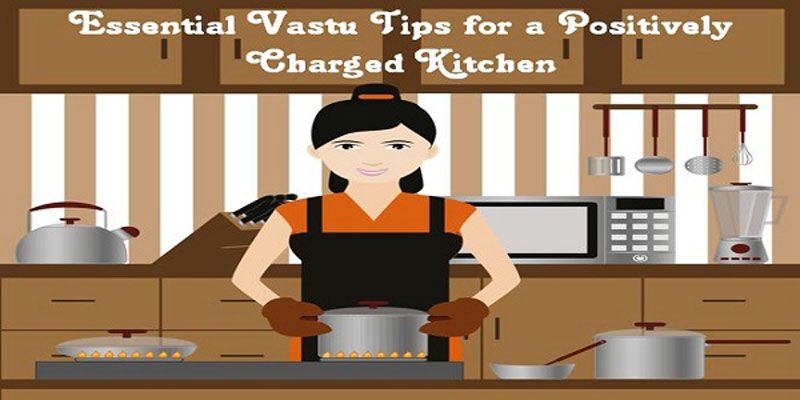 Vastu is a powerful science that reduces the gravity of problems faced by a person and brings prosperity and happiness in life. Considered to be a sacred place in home, the kitchen's location plays a significant role. It is not just a place where meals are cooked but the area where balance of right energies and directions takes place. The incorrect location of kitchen has a direct effect on the health of female members of the family. So, it becomes mandatory to construct kitchen on the principles of Vastu Shastra.
Essential determinants to be considered while constructing a kitchen:
Proper location of the kitchen
Placement of doors and windows
Placement of cooking gas
Placement of sink
Placement of gas cylinder
Placement of refrigerator
Placement of electronic gadgets
Location of the kitchen: The ideal position for the kitchen is considered to be the fire corner of the house i.e. Southeast portion where the balance of water and fire takes place. Lord Agni, a symbolic for fire, resides in the south-eastern part of the house making it a better place for cooking food. Northwest part of the house is also considered as a preferred location for setting up the kitchen. One should ensure that the entrance of the kitchen should be either in the north or east direction. The door of the kitchen must open in clockwise direction.
Directions NOT to be considered while constructing a kitchen:
Northeast
Mid-north
Mid-west
Southwest
Mid-south
Centre of the house
Other important Vastu tips:
While cooking, one must face towards the east. Facing any other direction can affect the health of the person.
Ensure that the cooking platform is not touching the northern or eastern wall.
A bathroom or toilet should not be attached to the kitchen.
Water sources should be placed in the North.
Green is the preferred colour for kitchen.
Centre of the kitchen should never be used to serve the food.
Clock should be placed on the south or southwest walls.
Sink should be placed in the Northeast direction.
Electrical appliances needs to be positioned at the right place as per Vastu like microwave and exhaust fans should be placed in the southeast direction, whereas refrigerator should be placed in the southwest position.
There should be a considerable distance between the sink and the cooking range as water and fire repel each other.
To avoid digestion problems, the stove should not be visible from outside.
Keeping the above mentioned tips in mind and constructing a kitchen as per them can bring prosperity and well-being to the family.