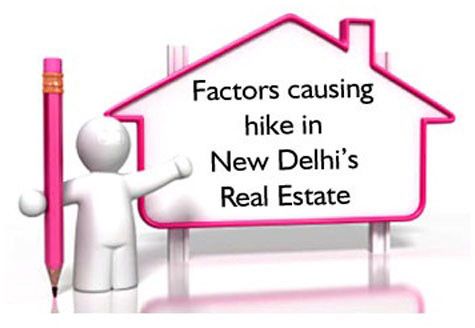 Delhi is one of the most historic cities of India. The capital of India, Delhi is the largest metropolis by area and second largest metropolis by population. Hence, there is a great scope of development in the Delhi Real Estate. Apart from that, people from all over India migrate to Delhi for various reasons such as in search of employment, for studies, for tourism, for business purposes and many more. There is a great demand for various Real Estate sectors such as flats, apartments, corporate houses, industrial/agricultural lands, and residential plots.
The various factors determining the property prices in Delhi are as follows:
Normally, it has been noted that the areas which are in greater demand have higher property prices.
People have a preference for the areas which are easily accessible from railway station, airport, etc.
Tourists choose to stay close to historic places.
Students prefer to find an accommodation nearby to their college.
The working people opt for the area which is well connected by metro and bus services.
The various reasons responsible for the property price hike in Delhi are as follows:
Government has adopted liberal investment policies that have facilitated investing in the real estate sector of Delhi.
Today, many government and private sector banks offer investment loans that have enabled even the people belonging to the middle class to invest money in property of Delhi.
Metro Connectivity is a major reason for the hike in property prices in Delhi. The areas which are connected to metro service have experienced a severe rise in property prices.
Delhi/NCR is one of the most developed regions of India. It has all the world- class amenities that attract the people from all over India to invest in the real estate sector of Delhi.
Due to large number of people migrating to Delhi from all over the country, there is a enormous demand for the properties in Delhi. To meet these demands, the construction is also going on at a great speed. But still there is a gap between the demand and supply resulting in price hike.
Apart from India, some of the foreign investors are also choosing to invest in the Real Estate sector of Delhi, giving way to further hike in property prices.
Besides the above mentioned reasons, there are other reasons responsible for hike in property prices of Delhi such as strong economic growth and recovery of financial markets. All these reasons make Delhi one of the favorite destinations for real estate investors, thus increasing the property prices..