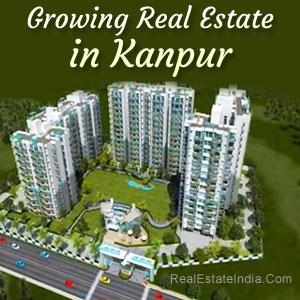 Amidst the largest city of Uttar Pradesh, Kanpur spontaneously reminds us about the Ganges. Leaving aside the religious importance of this place, Kanpur is India's chief industrial center. Spanning over an area of 260 sq km., Kanpur is divided into 6 zones and 110 wards with an average population of 20,000 to 27,000 per ward. Kanpur is well-connected with major metro cities like Delhi & Kolkata through National Highways. Also, this city is connected with almost all major cities and centers in India through the ever expanding rail routes. It is due to the location advantages of 2 major National highways and rail routes that today, Kanpur has evolved as a central industrial hub.
Growing Infrastructure
The growth of Realestate in Kanpur can be attributed to the development of the following factors:
Educational Institutes: Kanpur is home to some of the most reputed institutes in the country like IIT, Agricultural College and UIET. Due to this, Kanpur sees immigration of students from various parts of the country. Thus, the need for rented accommodation has increased multifold over the past few years.
Retail Sector: With Government Textile Institute and the National Sugar Industry playing a pioneer role in the retail industry, new malls are being developed in the city. It is due to this fact that the need for residential and commercial property has increased over a period of time.
Industries: Kanpur is known as a city of industries, from textile to leather to clothes, Kanpur is known to provide exceptional finished products. In addition to this, companies such as Hindustan Lever, Steel Authority of India Limited, Pepsi, National Thermal Power Corporation have made way for migration in search of better career prospects.
World Class Residential Projects
Due to these factors, a large number of residential projects are being developed in the city, which are giving rise to the demand of affordable 2-3BHK to luxury apartments. As a matter of fact, Real Estate Agents in Kanpur today offer quality accommodation to suit all kind of budgets.