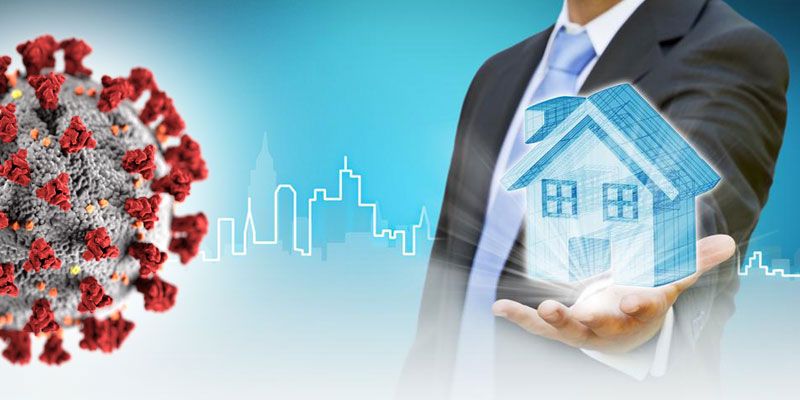 While the adverse effect of coronavirus pandemic has been felt by every commercial sector across the world, Indian real estate is also facing some severe impacts. Varying opinions are coming out with regards to COVID-19 implications for the real estate industry. Some are finding it as an excellent prospect for economic growth near future, while some are seeing it as a significant loss.
This health emergency has launched a work from home idea for the safety and benefit of ordinary people. This is also one of the prime factors to decide an upgrade in the economy or downfall in the Indian real estate industry. The lockdown in India is now in its fourth stage amid a sharp rise in the number of infected patients. This is really a matter of concern, and we should mark its impact on our Indian economy.
Here we have assessed various sectors in Indian real estate and the impact of Coronavirus pandemic on each one.
Impact on the Indian housing market
The exact damage is hard to grasp at the current situation where every single day is making a significant difference. But one thing can be concluded that the housing market would suffer consistent shocks on account of this contagion. The adverse impact on the housing industry has been visible in the first half of 2020. The slowdown in the demand of residential segments has shown that this segment is not going to face any upsurge as the inventory is still significant.
Impact on home buyers in India
During this lockdown, everything was in halt. How a home buyer could be separated from adverse impacts. This has obviously slowed down the speed of property buying by home buyers in India. But there is a massive prospect that the coming future would be suitable for them. The reason is the significant amendment by financial policies. The home loan interest rates are down now at 8%. High tax exemption is yet another reason that is going to make a change in consumer behaviour for buying property. Hence, the Coronavirus outbreak is likely to upsurge the home buying in the Indian real estate industry.
Impact on builders in India
This coronavirus impact has led to an extended halt in the construction industry. Amid the lockdown supply of manufacturing material and equipment face delay. Thousands of labourers became jobless. This is the worse impact and a profound loss to the builders. However, after lockdown ends, the construction will start again, but not as usual as earlier. However, NRI investment in Indian real estate will expectedly improve amid rupee fall.
Impact on office space in India
According to a survey, 70% of companies in India has planned to stretch the work from home policy. To stop the virus spread, it is a vital necessity. Hence, a consistent downfall in office space construction is expected. Rising employment in relevant sectors will more than balance off any adverse impact on the demand for more offices.
There would be investment possibly in future office spaces that assure to be better prepared for crisis situations.
Impact on mall developers in India
The anxiety surrounding the virus spread resulted in footfall in malls in India, reducing by half before the government ordered a complete lockdown. If the situation persists, then there would be a wait and watch case as people will need some time to gain confidence for thronging into the malls.
However, the responsibility of mall owners will shift towards managing better air quality, improving hygiene, sanitization and awareness. Depending on these factors, the demand for malls is in doubt, and the impact of COVID-19 on mall developers in India is dicey.
Well, these are the current scenarios and impact of Coronavirus outbreak on various pillars of Indian real estate. Nothing can be cited confidently. Still, the condition depends on how this infection intensifies.