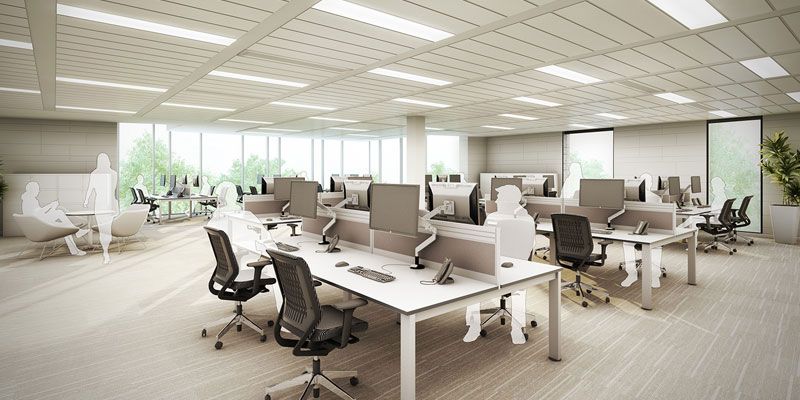 Mumbai is one of India's most wealthy cities. It is the heart and soul of the country, both commercially and financially. It is no surprise that the city is luring businesses from all over the country to capitalize on the opportunities and wealth it provides. What poses a dilemma for businesses in the midst of the industrial boom and buzz is a scarcity of office space in Mumbai especially the office spaces in Andheri West, Mumbai. The scarcity of land area for office spaces has resulted in making Mumbai one of the most expensive cities.
An office is where we spend the majority of our time and energy. Therefore the place where you choose to plan your office space must be attractive and alluring and so is provided by the office spaces in Andheri West, Mumbai.
Why choose Office Space in Andheri West?
Andheri West is one of the most searched areas for office spaces because of the various features it provides. The Pace of infrastructural development in Andheri West is twice as compared to other cities of Mumbai. It has become the hub for world-class MNC's and companies that provide greater opportunities. Andheri West also offers all the basic facilities like parking, transportation, better connectivity, etc that help the office space to be more employees friendly.
It is a posh area of Mumbai where setting up offices will help you in expanding your business and skills too. A little expensive but buying an office space in Andheri West Mumbai will be a forever earning option.
Various Types of Office Spaces
Office spaces in Andheri West, Mumbai are available in wide ranges each with different purposes and specifications. Traditional office spaces in Andheri West, Mumbai are often located in individual buildings. It can be either furnished or unfurnished. If you have the budget, you can personalize a classic unfurnished office space to your liking. You can choose between a free-flowing open space design and a traditional office design with individual cubicles and a separate meeting room.
If you require smaller office spaces, business centers are also available as office space in Andheri West, Mumbai. They are often one large building that holds several smaller offices in prime districts of any city. Typically, a business center provides premium amenities such as a reception area, a cafeteria, and assigned parking.
Shared office spaces in Andheri West, Mumbai are extremely popular this season. Shared office spaces are quite popular because of the amenities that they provide to their occupants at reasonable pricing. You will be sharing office space with employees from other companies.
All these office spaces are available at high prices in Andheri West starting from Rs 25,000 per sq ft and ranging up to Rs 50,000 per sq ft. If you want to invest in properties providing office spaces in Andheri West, Mumbai, it is a better time as prices will be skyrocketing in the coming future.
Why office spaces are so expensive?
The main reason for the sky-touching prices of office spaces in Andheri West, Mumbai is the shortage of land it has. The type of physical composition of the city has restricted scope for expansion, which is accountable for the city's land constraint. Many individuals are traveling to the city to find work, which contributes to the city's population growth. All of this is driving up the demand for commercial property in the area. All these factors have contributed to making Mumbai city the most expensive city in India.
Tips for Choosing the Best Office Space
For selecting an ideal office space in Andheri West, Mumbai keeps in mind certain points like whether the area of the office is accessible by another method of transportation or not. Make sure that the area is near any big business centers. Check the key industries in the vicinity of the location. Also, research if there are chances for the growth of your office space. Also ensure that the office space in Andheri West, Mumbai that you are selecting is well-developed in terms of infrastructure.