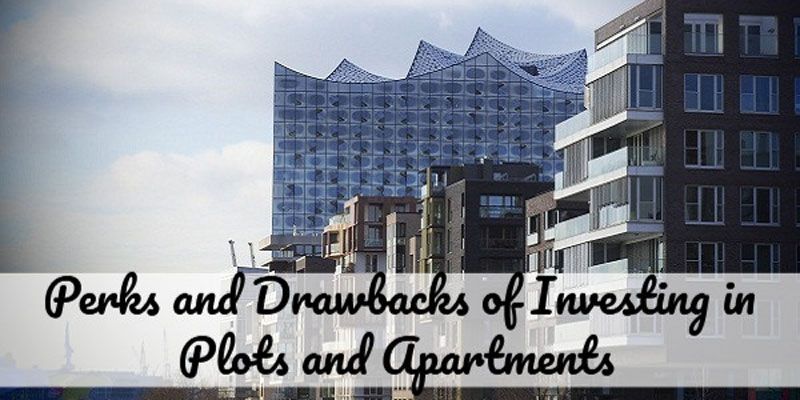 Apartments or plots, which one is the better investment? Deciding this has never been easy for anyone. Whether you are buying it for yourself or for resale purpose, you cannot take any chances with such a huge investment. If everything goes in your favor, you will end up getting great returns for sure. So, it is wise to carry out proper market research before buying any of these in order to avoid facing loss. There are several factors that you need to keep in mind while buying a property such as location, neighborhood, facilities, demographics, etc. All these factors are responsible for the price fluctuations in the real estate sector. Thanks to online portals, it is very easy to find residential plots and apartments for sale in India. Still, investing in apartments and plots can differ a lot as they have different types of buyers and their prices are also decided on the basis of different parameters. In order to get a clear picture, let's take a look at the pros and cons that they offer.
Pros of Investing in an Apartment
Buying an apartment is surely a great deal. Following are some of the points that support the statement:
Stress-Free: Buying a plot and waiting for months to get the house constructed is quite vexing. So, purchasing an apartment is surely a wise choice here as you'll get a ready to move in house.
Rental Income: One of the biggest advantages of investing in an apartment is that you will always have tenants eager to offer good rent for a well-built apartment. This way you can recover the money spent on its purchase through the monthly rental and even use it for paying the EMI for your home loan.
Easy Loan: Thanks to the positive relations builders have with banks, getting a loan for buying an apartment becomes much easier for the buyer.
Facilities: Societies are generally built in convenient locations that are closely connected to public facilities like hospitals, schools, market, etc. Moreover, the builders usually offer great amenities like gym, swimming pools, high security, etc., with an apartment.
Affordability: Flats can be easily afforded by middle-class customers as the upfront cost in a flat is generally 20% and the remaining 80% can be financed by majority of financial institutions.
Easy to Sell: Selling a flat is much easier than selling a plot as there are various factors that can assist you like location, nearby facilities, apartment's interior, and much more. People are constantly searching for apartments for sale in India.
Cons of Investing in an Apartment
While buying an apartment there are several problems that you might face. Some of them are mentioned below:
Possession: This is one of the most common frauds that many people have faced after buying an apartment. They buy apartments from unscrupulous builders and end up getting cheated as they never get its possession. Always invest in a property that is built by a reputed builder who is registered with RERA.
Restriction for Customization: The builders design the apartment according to a general design for most of their clients. Afterward, the buyers are not left with much to customize in their home.
Pros of Investing in a Plot
Buying a plot is surely a great deal in terms of personal use and resale as well. Mentioned below are some of the advantages of buying a plot:
It's Your Land: It is your land and you'll have the freedom for building any type of property there such as villa, apartments, bungalow, etc. You can use it for commercial purposes as well.
High Appreciation Rate: When compared to the prices of an apartment, the prices of a plot generally face a higher appreciation. This is the reason why people are constantly searching for residential plots for sale in India.
Customization: Any property built on your plot will be designed according to your preferences instead of a general design used by the builders.
Cons of Investing in a Plot
Construction: If you are planning to build a house on a plot then get ready to invest a lot of money and time to it. This might be a problem for many investors.
Lack of Security: The societies generally have a team of security guards to look after all the residents of it. In the case of a plot, the owners have to make personal arrangements for their security.
See also: Why Real Estate Investing is the Safest An Investment Option?
Investment in plots and apartments are both equally profitable. Mentioned above are some of the pros and cons that plots and apartments offer. Depending on your requirements, finances available, and purpose of investment, you can decide which one is better for you.