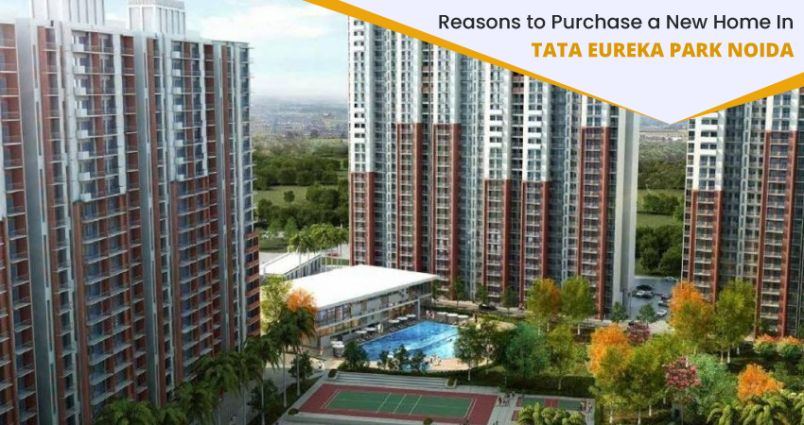 Tata Eureka Park located insector 150 Noida is an amazing residential property to offer you the most premium segment for 2/3 BHK elite apartments. Test to live in these commodious homes to identify the best living in the most soothing segment of your livelihood. In this article, you will come to know more about Tata Eureka Park.
Here are some of the most notable reasons to buy your new home or Invest in Tata Eureka Park Noida.
1. Trust of Tata
Tata Housing is not just a reputed real estate developer but a subsidiary of Tata Group. This real estate developer with the motto of inculcating zeal at work and bringing the best to its investors was set up in the year 1984, the company has been engaged in opulence construction of residential projects.
The company has developed its communities in different cities in India. Apart from luxurious, full-fledged residential projects, the company also presents commercial, retail, IT, and infrastructure projects.
2. Enhanced Level of Security
Smart apartments in this residential community are not only furnished with home automation features but also smart security systems. Some of the best features are a digital AV door phone, provision for App-controlled appliances and smart door locks with keyless entry through a passcode.
3. Expansive Green and Open Landscape
In this residential community, you will get environmentally friendly smart homes with lots of benefits. Tata Eureka Park in Noida is spread over 20.74 acres of land comprising high-rise towers, large central greens, an open-air amphitheatre, a walking track, and other types of greenery around the community. These attributes not only provide a more "proximity to nature" feel but also make the atmosphere more fresh and healthy.
4. Smart Home Automation Features
This residential community presents 2 & 3 BHK homes with app-controlled automation features where you can manage the lights, fan speed, and temperature of your home with a single click. And smart door locks in the home with keyless entry through fingerprint access are the best smart security attributes.
5. Aluminium Shuttering Technology
Every residential property in Tata Housing is known for the finest construction quality, timely possession & earthquake resistance, and the same you will like in Eureka Park, thanks to the latest construction technology ' aluminium shuttering technology'. 
Aluminium Formwork System also called "Mivan Shuttering" is a modern construction technology for forming the cast-in-place concrete structures of a construction. It is also a modern construction technology for managing and arranging the work of other construction trades like steel support, concrete placement, and electrical and mechanical canals.
6. World-Class Amenities
Properties in TATA Eureka Park present you with a standard of living similar to many world-class gated communities in developed countries. At Tata Eureka Park you have nearly everything that you need to enjoy your living. Here you can find world-class facilities, such as:
Library
Squash Court
Badminton Court
Basketball Court
Smart Parking Assist
Kids Play Area.
7. Location Advantages
Tata Eureka Park is located at Sector 150 Noida nearby the Noida Expressway neighbourhood which offers easy connectivity towards quality educational institutions, best hospitals, banks, malls, retail stores, etc. As well, you will get ease of access to Delhi, Greater- Noida, and Faridabad. Wide expressways, flyovers, and metro contact make the community more demanding.
Noida Sector 148 Metro Station - 5 minutes
Amity University - 20 minutes
DLF Mall and World of Wonder - 30 minutes
South Extension in South Delhi - 45 minutes
New Delhi Railway Station and Delhi International Airport - 55 minutes
8. Clubhouse with Swimming Pool
Grand clubhouse in Tata Eureka Park Sector 150 Noida gives you access to a world of joy that includes a state-of-the-art gymnasium and party hall, etc. Here you can enjoy 20+ amenities but the swimming pool is one of the most desirable amenities of this community, especially in the scorching heats of Delhi NCR.
9. Wi-Fi Gazebos
Gazebos in Tata Eureka Park are furnished with Wi-Fi connectivity & power plugs, which makes you well connected anywhere in the community, you can do your office or personal work here and relish the view of greenery.
10. International Sized Tennis Courts
Playground and indoor play areas may be the common amenities these days in residential projects, but a tennis court is a rare amenity. But Tata Eureka Park has not only a tennis court but 4 international sized tennis courts. Whether you play tennis or not, a home on residential property with an international-sized tennis court is undoubtedly a symbol of prestige.