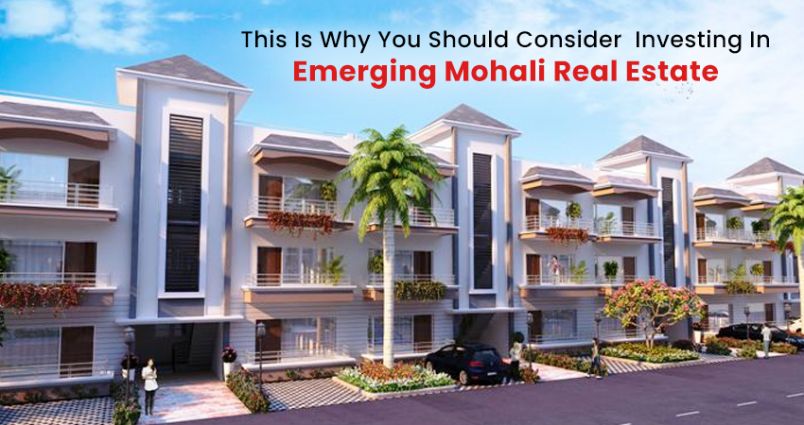 Because of factors such as urbanisation and government efforts such as the Smart Cities Mission and Housing for All, By 2022, the real estate market will be thriving not only in the country's largest cities but also in numerous Tier-II cities.
Mohali is one such city. Mohali, located near Chandigarh, is one of the country's rising cities due to its high affordability quotient, excellent connectivity, the influx of IT businesses, and substantial investment opportunities for Flats in Mohali.
Mohali, formerly a collection of villages and a satellite town in Punjab, is now a bustling commercial centre with ambitions to expand it further through the initiatives of the Greater Mohali Area Development Authority (GMADA).
Here is a description of the Mohali property market:
Employment and investment opportunities -
Mohali, also known as SAS Nagar, has a plethora of work opportunities for many people. Initiatives such as Ghar Ghar Naukri by the state government, as well as investment plans by major IT companies and other global corporations, would pave the way for expanded employment opportunities in Mohali in the future.
The location of Mohali has enticed numerous developers and investors to engage in this sector. Mohali has already positioned itself as an appealing destination for commercial investors, owing to its huge land parcels and improved infrastructure.
Rising residential demand -
Mohali real estate's thriving corporate world has fueled the rise of its residential sector. Furthermore, the Greater Mohali Area Development Authority (GMADA) is assisting in satisfying the town's housing demand through several housing programmes.
Apartments in Mohali are offered for an average price of Rs 3,200 per sqft for people shopping for property. A basic 1BHK property of 700 sqft can be purchased for as little as Rs 25 lakh. Apartments with 2BHK layouts measuring 980 sqft cost an average of Rs 30 lakh. Apartments with 3BHK layouts of 1,200 sqft cost an average of Rs 35 lakh, while luxury residences measuring 1,500 sqft to 2,000 sqft cost somewhere between Rs 80 lakh and Rs 1.3 crore. Rents for independent two-bedroom residential properties begin at Rs 15,000 per month.
Sector 115, Zirakpur Sector 126, Mohali and Mullanpur are two significant regions that are experiencing high demand and a high number of home projects. In recent years, the prices in these areas have risen significantly.
Connectivity and Infrastructure -
Mohali is at a good location in terms of convenience and access to vital locations. There is easy access to Chandigarh and surrounding cities Ambala and Delhi via a 200-foot ring road and train connectivity. Mohali is also a promising investment opportunity owing to the influence of a new international airport. Once operational, the metro connection under the Chandigarh Metro Rail project would improve citizens' travel experiences.
Important Facts to Consider:
To return to the subject, various facts have proven beneficial in Mohali real estate. To begin with, real estate provides a variety of tax advantages, especially when it comes to rental property. As a result, this is one of the primary reasons why Mohali has grown at such a rapid speed.
The second critical aspect is Cash Flow, as the name implies. However, as Mohali, real estate trends show, real estate provides exceptional returns on investment that have been proved to fix income. If you have a debt or a mortgage, cash flow can help you out.
Yes, investing in Real Estate Mohali pays off since investors regard Mohali as one of the best places to generate money. The real estate emphasis has switched from Chandigarh UT to the city's Sahibzada Ajit Singh Nagar (Mohali).
Mohali villas are drawing a whole new class of people who wish to live a lavish lifestyle for their entire lives. The city is tucked away in the peaceful foothills of the Shivalik Range.
Because of its accessibility, connection, and healthy environment, Mohali represents the future of real estate in the neighbourhood and is a feasible investment option.