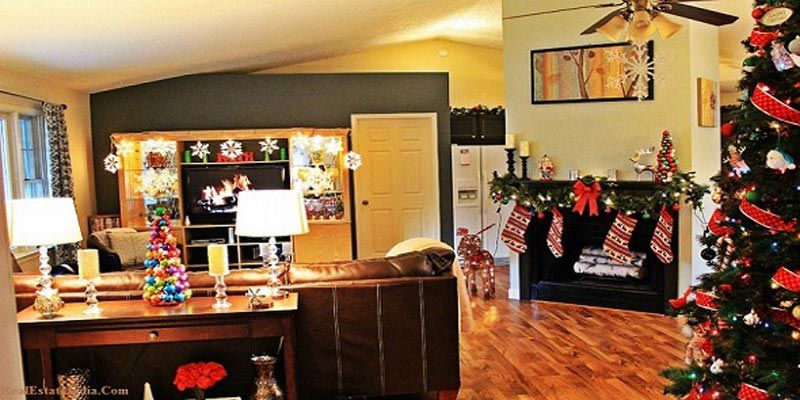 Don't we all just love how Christmas brings us closer to our loved ones? It's the best time for family gatherings and friend's get-together. We love to welcome all our near and dear ones to our house and celebrate the spirit of Christmas with them. So, while they are out there planning their visit, you have a bigger job to do. Therefore, select best interior designer for decorate your house in this Christmas!
From the traditional Christmas tree to the Christmas stockings, from the Christmas wreaths to the fairy lights, from red ribbons to Christmas star, you need a lot of things to decorate your house in the perfect way for this holy festival. Whether you have been decorating your house for years or are doing it for the first time, this write-up would help you to make your house ready for all your guests and visitors.
Know Your Place - Before you set your foot out for Christmas-shopping, it is always advised to have a look at the house and how you want to decorate it. The decorating items that you buy should enhance the color of your place. The Christmas tree along with other things you buy should go with the color of your room; nothing should look out of place. Be very careful about the size of the room as well. You don't want to buy oversized stuff or something that looks too small for the room. Plan your shopping according to the room, know where things are placed and enjoy shopping interesting things for your home.
Have A Christmas Tree - Christmas is never complete without a nicely decorated Christmas tree placed in the corner of the room. Set your preferences right before you go out to buy the holy tree. Gone are the days when green was the only color available in the market. You can now find trees in a combination of colors like green with red and white, white and green trees etc. There are many non-traditional colors available like silver, sage green, peacock-blue, snowy white, bronze etc. Know which color would suit your place and buy the one that gels with your room.
Work On The Christmas Theme - Once you are done with shopping, it's time to get creative and decorate the home. Remember, it's Christmas, the time of joy and cheer. To set the theme of Christmas right, work on colors like red, white and green. Use ribbons, fairy lights, Christmas stockings, Santa caps, mini trees, mistletoes, colorful balls, artificial snowflakes, candy sticks, wreaths, candles etc. to give your house the perfect Christmas look.
Decorate Your Tree - Plain Christmas tree looks out of the place now. Decorate it according to your wish. Place the tree in one of the corners of the house and start decorating it. You can opt for many looks like snowy, candy-land, elegant, bold red etc. for your Christmas tree. Start by adding small fairies, Christmas balls, glitter stars, artificial gifts, candies bars and other ornaments. Use red ribbon to add a contrasting color to the tree. Once you are done with that light up the space with fairy lights. Remember to add as much light as possible to make your tree shine even in the darkest of nights. Lastly, add a tree topper. You can have a shiny star, a fancy bow, an angel or even a tiara to put on top of your tree to finish the look.
Don't Forget The Door - Christmas is a time when your friends and family members visit your place. Add Christmas feel to the entrance itself. Decorate your main door with Christmas wreaths, holly leaves and a Merry Christmas board to complete the Christmas look. Add red ribbons and colorful Christmas stars to play with colors and enhance the entire look. You can also add little fairies, Santa statues, paper snowflakes and other things near your entrance to greet your loved ones in a Christmassy way.
Once you are done with the decoration, buy gifts for your loved ones and wrap them neatly. Get ready for this day, put on your best dress and enjoy it with your friends and family in your Christmassy home. Enjoy your Christmas and spend it in the best possible way.