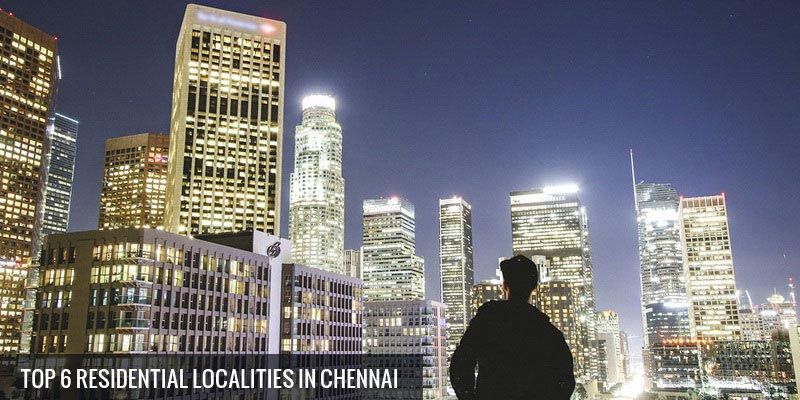 Chennai, the capital of the Indian state of Tamil Nadu, has been marked as one of the best cities to live in India. It was ranked the safest city in the country by the Quality of Living Survey, best city by India Today, hottest city (in living & visiting) by BBC, and even counted among the top ten cities in the world by Lonely Planet. With so many studies, surveys, and reports pointing towards the high quality of life offered by Chennai, people from different parts of the country are moving to this Southern city. This has led to a steep rise in the demand graph for real estate in Chennai.
The real estate market of the city comprises of different localities with different vibes that cater to the unique needs and orientations of the people living in or migrating to the city. If you are also planning to move to this city or want to relocate to another location in Chennai, this list of top residential localities in Chennai will come in handy. Let's have a look.
Tambaram
Located in the suburbs of Chennai, Tambaram is a well-established locality that is attracting property buyers in Chennai with its luxurious housing options. The top real estate agents in Chennai consider Tambaram to be a great area for investment. In fact, it attracts the High-Net-Worth Individuals (HNWI) and Non-Resident Indians for investment in Chennai. It offers exceptional amenities in the suburbs of Chennai and has also witnessed steep appreciation in price. The area has witnessed an appreciation in the rate of property price from Rs 3,700 per sq. ft.to Rs 4,500 per sq. ft.
Porur
Located in West Chennai, Porur is an ancient existing locality that is now a home to various IT companies, Special Economic Zones (SEZ), manufacturing units, and chemical plants. It is strategically positioned at the junction of the Mount-Poonamallee Road. The average price of buying an apartment in Porur is around INR 50-65 lakhs. As per the analysis of the property and listings offered by the property dealers in Chennai, the price of property in Porur has increased from INR 3,100 per sq. ft. in 2010 to INR 5,400 per sq. ft. in 2015.
Medavakkam
Located in the suburb of Southern Chennai, Medavakkam is a rapidly developing locality. It has wide interior roads and proximity to various residential localities, entertainment and recreation facilities, and IT parks etc. There are several other infrastructural projects for the construction of flyovers, roads, IT parks, and schools etc., that make this area more attractive. A report by Knight Fran India even stated that the areas would see a 90% appreciation in property price by 2017.
Besant Nagar
Located in the neighborhood of Chennai, Besant Nagar is upscale coastal locality that is known for its beach. Many famous personalities have resided in this serene and green locality. Those looking for the sea-facing homes with a beach view can buy homes in this area. There are many restaurants, temples and the famous Elliot Beach that act as a magnet pulling people towards this locality.
Madipakkam
Located in South Chennai, Madipakkam is gaining popularity as a residential locality. With adequate amenities, facilities, and utilities, the area is ideal for the families looking for an affordable house in Chennai. One can find flats, residential plots, and residential houses in this locality at an affordable price and also enjoy high returns on their investment. The area witnesses an appreciation in the property rate from 3,100 per sq. ft. in 2010 to Rs 5,000 per sq. ft. in 2015
Alwarpet
Located in central Chennai, Alwarpet is an upscale locality with mixed residential zone and high social and civic development. Many famous personalities have their residences in this area and it also has the most prestigious schools, amazing restaurants etc. The property price in Alwarpet has witnessed an appreciation at the rate of 6.5% in last 4 years. This upscale posh locality costs around INR 20,000 - 23,000 per sq ft.
When buying property in Chennai, hire the best real estate agent in Chennai to ensure that you find your dream home at an affordable price. Do a bit of a research online about the project or the property before settling down for one. Make sure you find the right real estate agent in Chennai by checking his/her experience, track record, clients served, service charge, location expertise. An experienced property dealer can guarantee that you find the best property in Chennai within your budget.