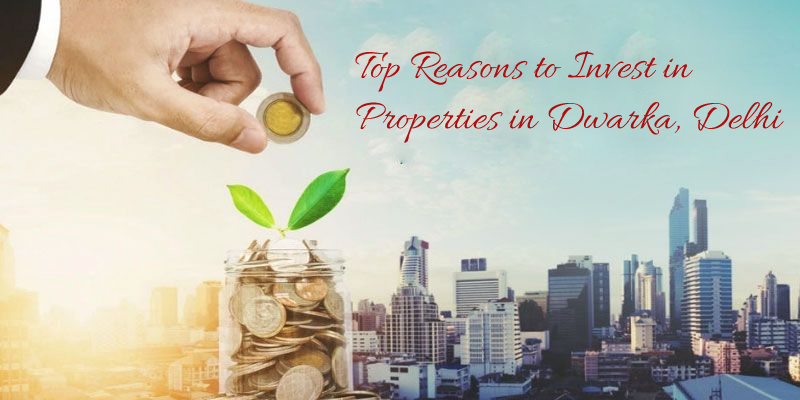 Divided into 29 sectors, Dwarka is a planned Residential Property in Delhi. The area has been a preferred choice for property buyers as it is near to Indira Gandhi International (IGI) Airport. Dwarka in southwest Delhi offers multiple residential options across the board, comprising apartments, independent homes, and builder floor units. Unified connectivity via the Delhi Metro Blue Line, proximity to commercial hubs, and a plush lifestyle are the compelling factors. That makes the locale a chosen choice among homebuyers. The development of Dwarka as a smart city under (the DDA) has also gathered the attention of property investors.
Reasons to invest in Real Estate in Dwarka, Delhi.
1. A best residential hotspot
Residential developments in Dwarka majorly include low-rise DDA apartments and numerous multi-story cooperative group housing societies. Residential apartments and builder floors and Flats for Sale in Dwarka, Delhi. All the Units organize over 90 percent of the housing supply in the zone. Over 200 ready-to-move projects have listed over four percent year-on-year (YoY) rise in Dwarka.
2. Healthy connectivity
Dwarka is one of the well-organized and well-connected areas in Delhi. Dwarka Road, Urban Extension Road, Pankha Road, and Najafgarh Road are the main roads passing through the micro-market. Delhi Cantonment, Janakpuri, Uttam Nagar, and Palam Vihar are the noticeable localities around with robust road nexus. Moreover, Dwarka lies about 12 km away from Terminal 1 of the Indira Gandhi International (IGI) Airport. The Airport Express Line joins Dwarka to various parts of Delhi.
3. Complete social infrastructure and a prominent employment hub
Dwarka is a well-built region in terms of social infrastructure, housing some of the finest educational institutes, hospitals, and places of interest. The area also has a sector market with popular food joints along with shops for vital services. Home to DDA Sports Complex, numerous public parks and green belts are also present in the locale.
4. A host of strategic infrastructure growths
The continuing Dwarka-Gurgaon Metro Line from Gurgaon Rezangla Chowk to Sector-21 Dwarka and the Metrolite. These projects are among the main ongoing developments that would increase the housing demand in this locality. The projects are scheduled for completion in 2023 and 2025, respectively. The locality is arranged for a renovation by the (DDA), which will increase the quality of life for the residents. It will also help resolve traffic problems, particularly on arterial roads. The upcoming Dwarka Expressway will improve connectivity between West Delhi and Gurgaon and reduce vehicular congestion on NH-48.
5. Future Retail Hub
As the residential and commercial happenings are now at a peak, the retail sector will also see a boom in this region. Some of the prominent malls located in this area comprise Sapphire mall 90, Sapphire mall 92, Vatika Town Square, etc.
However, the present supply will fall short, which will call for the initiation of new large-scale retail projects. Here you will find fine dining, a high street, and a hub of entertaining choices under a single roof.