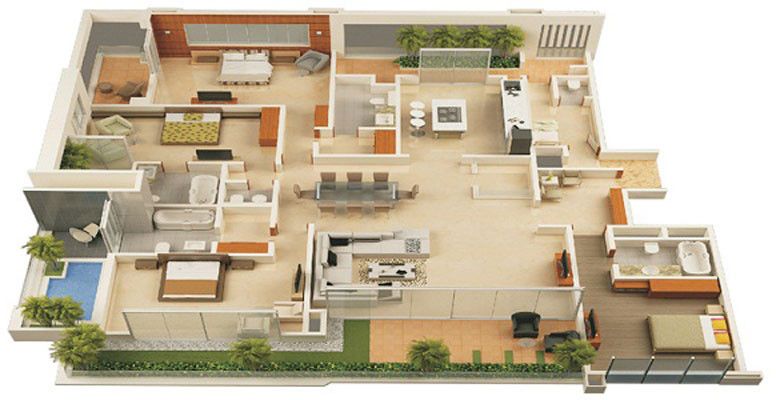 Nowadays people have firm faith and belief in Vaastu Shastra. It is believed that the layout of a flat or an apartment and placing of certain physical elements should be according to the tenets of Vaastu. It helps in the creation of a peaceful and harmonious atmosphere. So, it's essential to consult a Vaastu expert before you buying or renovating, so that the expert could easily tell you whether that structure is in conformance with the Vaastu principles or not. Since the flats or the apartments are already built, you do not have that freedom to take suggestions on how it should be made. So, here are certain tips on what elements should be taken in consideration beforehand.
Vaastu Tips
Main door of the flat or an apartment should be situated at the following sections of the flat:

North/East of the northeast section
East of the southeast section
West of northwest section
Quadrant of the flat

The height of the main door should be higher than the other doors in the house.
Master bedroom should be facing the southwest direction.
Your washroom should be facing the south or the west direction
The drawing room of your flat or an apartment should be facing south, west or northwest direction
Kitchen should be towards the northwest or southeast direction
The windows and the balconies should preferably be in the eastern or the northern side
If the flat or an apartment has a store room, it should be facing towards the south
Other tips after purchasing a flat or an apartment
Give those rooms to your children which face the northwest direction
Place your furniture either in the south or the west direction
Beds should always be kept in the southwest direction
Remember that door of your cupboard should open towards the north direction
Sleep with your head facing towards the south
Keep the above guidelines in mind and happiness and prosperity will surely enter your life. Not only that; working by these Vaastu tenets will also prevent any dangers or bad events from taking place in your home or life.