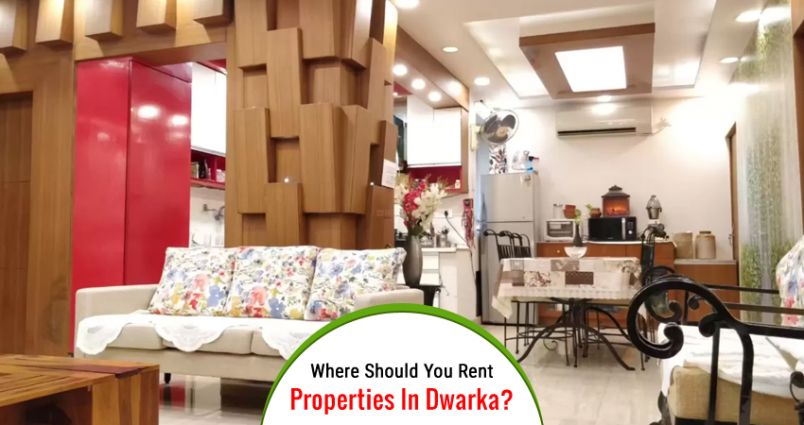 Dwarka is based in the South West of the national capital, Delhi. It is a developed and independent sub-city that has all the necessary facilities and necessities. This has a well developed social infrastructure. This has made Dwarka one of the top choices of people who work in Gurugram and west Delhi for renting houses.
Property for Rent in Dwarka is necessary for students, working professionals and other such people living in Dwarka for something or the other. The improved connectivity and the rapid development of this city have made it popular among the people. There are plenty of housing options for people to stay in Dwarka. Top investors are making investments in Dwarka and providing houses for rent to the customers.
If you are also thinking of renting a house in Dwarka then you are in the right place. Following are some of the locations in Dwarka where one should invest. These are the most searched areas on websites that are the safest to live with family or alone.
Dwarka Sector 23
This place is well known among all the other localities in Dwarka. One can stay here with their family as it has shopping complexes and hospitals, schools and other such amenities nearby. The locality is also connected to the Delhi Metro Blue Line and it takes ten minutes to walk and reach Dwarka Sector 8. The area has numerous apartments that are offered to people for rent at a nominal price. You will get 1 BHK to 3 BHK here at a range of 6000 to 16000 rupees.
Dwarka Sector 13
Sector 13 is the most expensive one in Dwarka. The rent is also high compared to other localities in Dwarka. This place is near the Dwarka Sector 12 Metro station. The area is also popular among the students as there are plenty of colleges nearby. If you are an investor who wants students as tenants then you should have a look at this place. The apartments here are bigger and are made for sharing purposes. The range of rental houses here is from Rs 7000 to Rs 22000.
Dwarka Sector 19
This place is near two Metro stations, Sector 11 and 10. Sector 19 is connected to the Indira Gandhi International Airport through the Urban Extension Road. The area that is near Gurugram is also population for the exhibitions and seasonal fairs that attracts plenty of people. Sector 19 also has popular apartments and residential areas that are known for their luxury and upkeep. The rent starts here from 9000 to 23000 rupees.
Dwarka Sector 22
This place is connected through Urban Extension Road and it is another upmarket locality based in Dwarka. Here are some of the prominent housing societies. There are plenty of central government housing societies that make it the best locality in Dwarka. The area is also popular as it has plenty of commercial establishments nearby like clubs, offices and banks. The rental range of this area is 12000 to 30000 rupees.
Dwarka Sector 11
Sector 11 of Dwarka is notified as a Mini smart city by the Delhi Development Authority. Approximately, 21 hectares of the land have been earmarked for development. Numerous housing societies offer rents and flats mostly the 3 BHKs. The nearest Metro station is Sector 11. The rental range is around 9000 to 22000 rupees.
There are plenty of other localities as well where you can look for flats for rent in Dwarka. This city has a lot to offer to the ones living here and Investors will also get high returns in future. Choose the best localities and flats in your budget and start living in Dwarka.