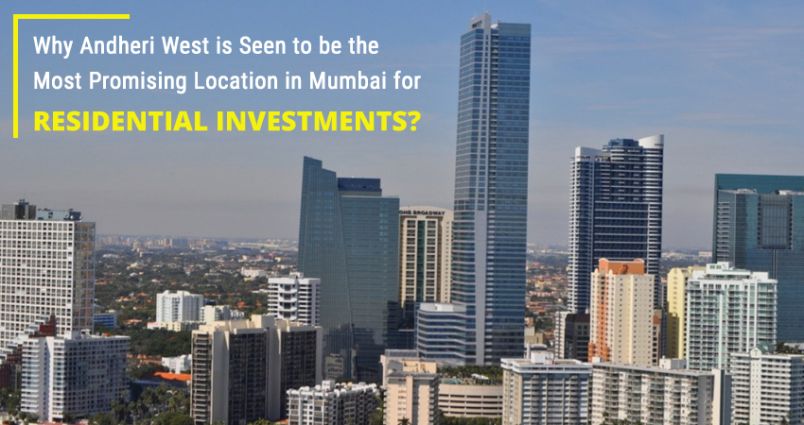 Andheri has been evolving as the strongest and one of the most contemporary residential zones in Mumbai. However, Andheri West is counted as the most popular location for residential investment and the flats for sale in Andheri West are high-demanding primarily because of exemplary connectivity and social infrastructure. It is no surprise because the real estate projects in Andheri West are increasing multifold.
There are several other reasons why Andheri West is the best place to invest in residential properties.
Bespoke Connectivity
Andheri West is wonderfully connected and staying in this location means residing in the heart of Mumbai and enjoying the best connectivity. Andheri West features all the best options for transport; be it buses, metro and even railways. For people looking to invest in properties and flats, Andheri West is the best choice for them, given how it promises a quick and convenient commute to your office through the following roads:
Jogeshwari-Vikhroli Link Road (JVLR)
Wester Express Highway (WEH)
Swami Vivekananda Road
The western suburban railway line and the metro station within the proximity of Azad Nagar are connected by railways.
Praise-Worthy Infrastructure
In an attempt, Brihanmumbai Municipal Corporation BMC is on its planning to establish a corridor just around the railway station at Andheri to minimize the hassles related to traffic. Andheri West promises abundant opportunities for residential investments. There are talks from the Maharashtra Government to build about 3 flyovers in a bid to better the traffic congestion of the area which can to your perks of living there.
Easy Access to Essential Services
The essential services are all located conveniently near Andheri West. The Kokilaben Dhirubhai Ambani hospital for instance is located in the shortest vicinity. You can enjoy doing a lot of things with your family in the place. The value of Andheri West's land is immense, with essential facilities situated either within driving or walking distance from the residential properties.
Why Buying Flats/Homes in Andheri West Can Prove to Be a Worthwhile Investment?
Andheri West has always excelled in terms of offering ample investment scope, courtesy of all the reputable business centres and the proximity to BKC and SEEPZ SEZ both of which are just 11 km and 5 km away respectively.
Why Andheri West is the Finest Place to Reside in Mumbai?
Andheri West is home to some of the greatest:
Social infrastructure
Reputable educational institutions
Healthcare Centres
Finest Restaurants
The suburb in Mumbai also makes for high-end residential space. It is one of the city's most popular hubs because of its top-notch scope. It is all these developments that contribute to making Andheri West the posh and popular location in Mumbai. Because places like Versova and Lokhandwala exist, the place is always ideal for living.
What Is So Special About Andheri West and Why is it's a Hot Spot for Real Estate Investment?
If you see a good property for sale in Andheri West, buy it right away as it is full of possibilities. The place is packed with high infrastructural development, public transport and social infrastructure as well. There's no other place more ideal than Andheri West in Mumbai. It is always great to invest in properties in the location since property prices are expected to increase in recent years.
By investing in a place like Andheri West, you can get the highest possible returns on real estate investments as an investor. Invest in one of the hottest listings in Andheri West and enjoy a luxurious lifestyle in Mumbai's exclusive location.