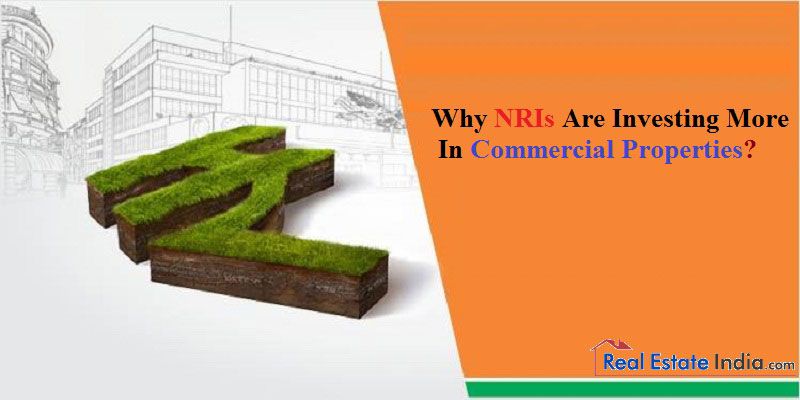 The Non-Resident Indians aka NRIs have always been keen in investing in real estate India. Key Real Estate players have identified this potential and keep launching luxury residential projects to specially attract NRIs. However, in the past few years, there has been a change in the investment behavior and the NRIs are showing more interest in commercial property than in residential real estate. The reason behind this change is the increasing demand for commercial real estate, better rental yields and capital appreciation. The demand for commercial spaces has significantly risen owing to large-scale requirements for luxury offices, IT parks and logistics centers. Not just that, there are many other reasons that are driving NRIs to prefer commercial real estate over residential real estate for investment. Read on to know more.
Outperforming Returns: NRIs invest in the Indian real estate to yield returns on their investment. Government move like Demonetization shook the residential real estate market but had little or no effect on commercial real estate. The commercial real estate is outperforming other investment options like mutual funds, FDs, etc., in returns due to the high rental yield. Ashok Chhajer, CMD, Arihant Superstructures also believes that commercial property rates are firming up faster and said, "Over the past one year, we have sold around 1 lakh sq ft of small offices in Navi Mumbai. Of this, 15-20% have been bought by non-resident Indians and this is a significant jump compared to our earlier experience. The reason seems quite clear as commercial property rates are firming up faster than residential and these investments also provide better IRRs (internal rate of returns).
Pre-Leasing At An All Time High: With the startup culture attracting a sizeable youth population to set up their own business, the demand for office spaces has increased drastically in India. The absorption rate of these units has increased over time which has led to pre-leasing going an all-time high. The pre-leasing of commercial spaces is high presently which indicates people's interest in the commercial spaces. NRIs investing in commercial real estate can enjoy the sustained demand for commercial spaces and have better returns on their investment.
Unstable Residential Market: Many government's initiatives like Real Estate Regulation Act aka RERE, Pradhan Mantri Awas Yojana aka PMAY, and Goods & Services Tax aka GST are trying to stabilize the residential real estate market of India. PM Narendra Modi's demonetization move made the residential market unstable and reduced the NRI interest in this market which led to an increased inclination towards the commercial real estate market. Commercial real estate is offering more stable returns and NRIs are focusing more in this sector until the residential real estate does not get completely revived.
High Rental Yields: Commercial real estate sector offers an average rental return of around 8%-11% and an overall return of 18%-22% while that of residential property is only 2%-4%. NRIs investing in commercial real estate can enjoy higher rental yields. Office units, showrooms, etc., in India have a rising demand which leads to higher capital appreciation as well. People are ready to rent a commercial unit in any corporate are at a much higher value than they would spend for a residential unit.
Greater Security Of Constant Returns: Investing in commercial real estate opens the door to stable and constant income. It offers constant returns because of its rent-generating properties. Whether it is a blue-chip company, Multinational Corporation or a startup, businesses are eagerly looking for commercial real estate units in corporate hubs. Moreover, businesses generally lease out commercial units for a minimum of 9 to 15 months while also offering a minimum of 3 years of lock in. This increases the security for constant returns as you would have locked in rental yield for that period.
Whether we talk about higher rental yield or about greater security, the reasons why NRIs are investing in commercial real estate are many. There has been a great shift in the investment in commercial real estate in the past few years and this trend would continue until the residential real estate does not get fully revived.