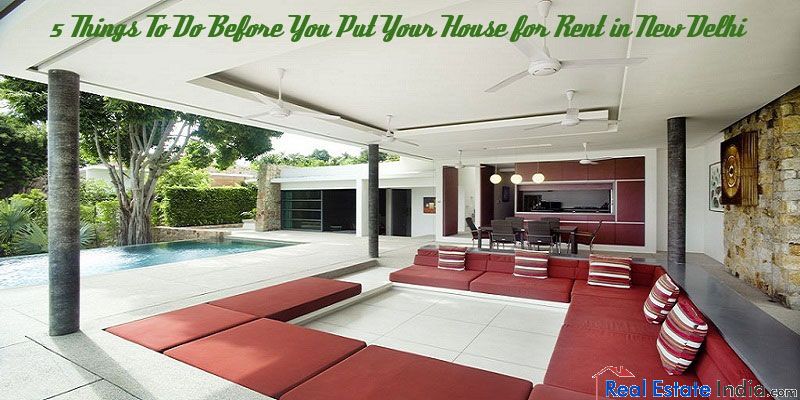 Increasing number of migrants and soaring rates of properties in Delhi NCR have significantly raised the requirement of rental properties. The landlords are making the most of this opportunity as their property is in high demand and they can easily extract high rent from the tenants now. However, in their bid to earn high rent, they should not turn blind eyes towards the increasing number of fraudulent cases against the tenants in the capital city. They need to be active and alert while renting out their property to ensure that they are not cheated by the tenants. If you are also a landlord, planning to give your home for rent in New Delhi, here are some of the points that should not be missed out.
Choose The Type Of Tenant
The first thing to consider before giving your home for rent in New Delhi is the type of tenant you might want. Delhi has a mixed population comprising of students, working professionals, live-in couples, etc. Moreover, there are also corporate tenants who rent houses from where they run their small business. In Delhi, many landlords now prefer corporate tenants as they can get better rental income along with steady payment from these corporate tenants. You can also choose the type of tenant you want depending on the type of property, location, nearby amenities etc., to fetch better rental yield.
Decide On The Rent Amount
The rental value of flats, apartments, builder floors, and individual house for rent in Delhi has grown by leaps and bounds in the past few years. Being a homeowner, you need to ensure that you are setting the right price for your home rent. You can contact various agents and brokers in your area or get in touch with other homeowners in your neighborhood to know how much they are charging for rent. Keep in mind that tenants living in rented homes in Delhi are even ready to give higher rent if they are offered better facilities in the house. Facilities and amenities like furnishing, electrical fittings, parking space etc., should be taken into account while deciding on the rent amount.
Carefully Draft The Rent Agreement
The number of fraudulent cases of tenants claiming the house or refusing to leave the house has increased in Delhi NCR the past few years. Therefore, a carefully drafted rent agreement is indispensable for the landowners. The rent agreement should contain various important things like the terms of rent, rent amount, frequency & rate of rent escalation, security deposit and its refund clauses, mode of payment, purpose of renting (commercial or residential), date of commencement of the rental agreement and period of renting, notice period before leaving, lock-in period, etc. After incorporating all these elements in the rent agreement, get it duly registered by the government.
Tenant Police Verification
While renting out your flat in Delhi NCR, it is important to perform a background check on the tenant. It can be checking the history of the tenant with previous landlords, talking to their references or simply getting the tenant police verified. One can easily find the Delhi tenant police verification form online or from the nearest police station. It can be filled by the tenants and submitted to the Delhi police along with the verification identity cards to get verification of the tenants. Delhi's police have become stricter about police verification of tenants and even filing FIR against those landlords who have not got it done. Those landlords who offend the tenant police verification law will be "punished with simple imprisonment for a term which may extend to one month" or with a fine which may "extend to Rs 200".
Involve A Registered Agent Or Broker
While searching out a tenant, it is always beneficial to hire a real estate agent or broker as they are experienced in such matters and invest their time and efforts specifically in finding the right tenant. They can perform all the tasks like assessing the property to set a rental value, advertising your property to find the right tenant, getting tenant verification etc. It can save a lot of time and they can even come to the rescue in case the tenant tries to play any foul game with you.
While these are the most important things you should do while renting out your property in New Delhi, there are other things like checking the credit score, bank statements etc., that should also be done by every landlord before giving their house for rent. They should also make periodical checks to the property to ensure that the tenants are not violating any rule or law.