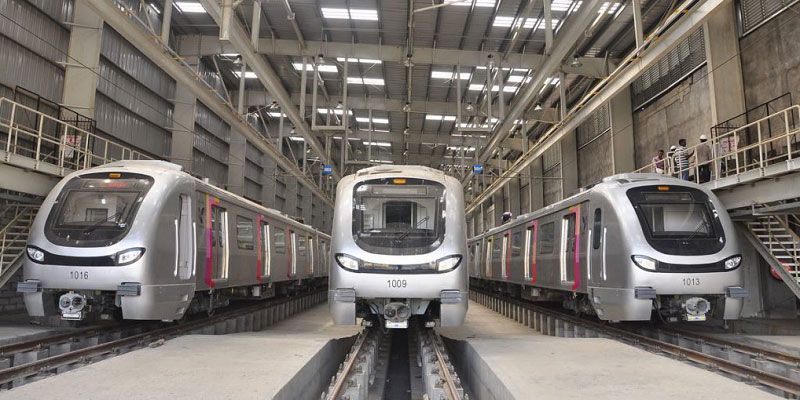 The Mumbai Metro Rail Corporation Limited aka MMRCL is undergoing its work for Mumbai's first underground metro. Popularly called the Line 3 of Mumbai Metro, this line would be a 33.5-km-long and have 27 stations out of which, 26 would be underground, and only one of the stations would be an at-grade station. This line is the longest metro line in Mumbai and its connectivity and interchanges also seem to be a boon for the people of this city. Upon completion, this line would connect the Santacruz Electronics Export Processing Zone aka SEEPZ in the north-central part of Mumbai to Western India's biggest business district, Cuff Parade in the city's extreme south. It is expected to cost around INR 30,000 crores but would certainly lift off the load that the Bandra-Chruchgate Western Line had been experiencing over the years.
Line 3 Of The Mumbai Metro
Line 3 of the Mumbai Metro is an ongoing project that has recently completed both its tunnels' construction. While the construction of the first tunnel was completed in September last year, the second tunnel saw the end light in December. This 35.5 kilometers long stretch of the Mumbai metro is known to be the longest underground stretch for any rail in India. Here are the metro stations that are being constructed on this metro link:
No.
Station
Interchanges
1
Cuffe Parade
None
2
Vidhan Bhavan
None
3
Churchgate
Western Line
4
Hutatma Chowk
None
5
CST Metro
Central Line Harbour Line
India Railways
6
Kalabadevi
None
7
Girgaon
None
8
Grant Road
Western Line
9
Mumbai Central Metro
Western Line
Indian Railways
10
Mahalaxmi
Western Line
Monorail
11
Science Museum
None
12
Acharya Atre Chowk
None
13
Worli
None
14
Siddhivinayak
None
15
Dadar
Western Line
Central Line
Indian Railways
16
Sitaladevi
None
17
Dharavi
None
18
BKC
Line 2 (Under Construction)
19
Vidyanagari
None
20
Santacruz
None
21
Domestic Airport
Line 7 (Under Construction)
22
Sahar Road
Line 7 (Under Construction)
23
International Airport
Line 7 (Under Construction)
24
Marol Naka
Line 1 (Operational)
25
MIDC
None
26
SEEPZ
Line 6
27
Aarey Depot
None
This line would not just simplify and fasten the commute from Cuff Parade to SEEPZ and CBD aka Central Business District. Not just that, this line also has a number of interchanges in between that would make people traveling from areas near other metro stations on this Colaba-Bandra-SEEPZ line. These interchanging stations would be connecting to Metro line 1 and Metro line 2 of the Mumbai Metro. The stations that will have interchanges are:
Churchgate for WR Suburban Station
CST Metro for CR Terminus
Grant Road for WR Suburban Station
Mumbai Central Metro for WR Terminus, ST bus depot
Mahalaxmi for WR Suburban Station
Marol Naka for Metro Line 1
Impact On The Real Estate in Mumbai
The impact of metro on any city has always been very positive on any its real estate. With metro, the city's commute smoothens up and so does its connectivity. And commutation is one of the top factors that determine the demand of real estate in any market. The real estate Mumbai also seems to be very optimistic about the construction of this new metro phase. Not only would the demand of property in the regions covered by this Colaba-Bandra-SEEPZ line increase but there would also be a boost in the number of projects being constructed there. Thane and Navi Mumbai would be among the top regions in the city to experience a boost in its social as well as civic infrastructure.
Mumbai Metro line 3 has many goodies in its bag for those living in the regions connecting the Central Business District (CBD) and Cuff Parade. This fully-underground line would be operations by the end of 2021. The people of Mumbai are eagerly waiting for this longest metro line to become operational so that they can easily commute across places. Those planning to invest in Mumbai real estate, the booming areas surrounding this metro would be a great investment to attract good returns.