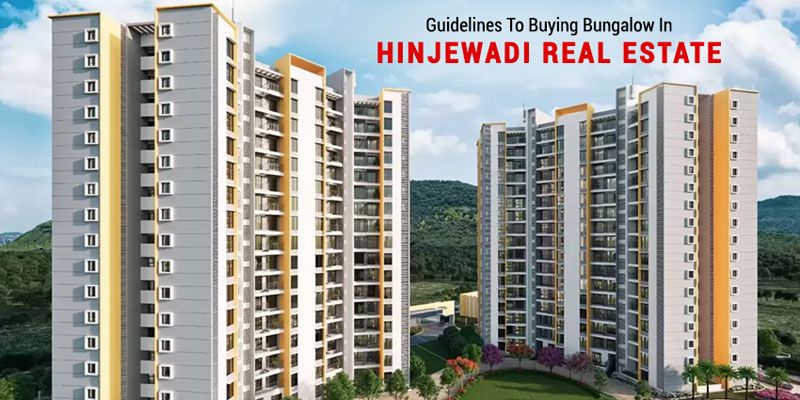 Pune with its emerging IT sector and development in Commerce is becoming a hot spot for real estate market ground. Hinjewadi, a small town lying amid Bangalore and Mumbai Highway is rising in popularity with growth in business in the city. Many renowned and coveted developers and business investor have shown a significant amount of interest in the real estate market, and hence the property prices are bound to rise.
Since Hinjewadi is still growing in the real estate market, it is the right time for first time home buyers to jump in the wagon. The residential property prices are still affordable, and the location is fit for the modern age with good infrastructure and civic facilities being easily accessible. Hinjewadi offers various residential real estate property options like flats, bungalows, villas, etc to first-time homebuyers. Listed below are a few factors to consider when buying a bungalow in Hinjewadi.
Opt For Creditable Developer
Bungalows are independent residential properties and hence the care and maintenance are solely dependent on the homebuyer. Therefore it is essential that when you invest in a bungalow make sure that the property is made by a reputable developer to guarantee quality work and architecture. Conduct thorough research on the developer's industry experience before making such a huge investment.
Amount Of Land Owned
Another great feature of buying bungalows is that you also get land attached to your property. The size of a lot of bungalows is larger in comparison to other types of residential properties. Hence, you must understand the extent of your property land so that there are no grievances and disputes on your property in future. Enquire the parcel of land attached with the desired property before investing to make an informed choice.
Enquire If There Is An Option Of Renovation
Since you get land along with your property, bungalows can provide you with the option of renovation. However, that depends on the property that you want to purchase. If you think that you would want to renovate the Bangalow in future then you must enquire the developer whether there is a scope of renovation with the property in the future. You should also check if the property has a legal permit for future renovation projects.
Offers Luxurious Lifestyle
If you are planning to buy a newer construction bungalow in Hinjewadi, then make sure that is per your lifestyle. Bungalows are expensive, and hence it is a big investment on your part. Therefore it is vital that the bungalow that you are opting for has all the horns and whistle of modern living and offers a luxurious lifestyle that you desire and want.
Another thing to keep in mind when opting for older construction bungalows in Hinjewadi is that you must enquire about the age of the property and its condition. Some bungalows are pretty to look at from the outside but can have many foundation issues if they are older construction houses.
Hinjewadi Real Estate is booming, and this has given rise to property prices in recent years. It has given rise to several business establishments like hospitality, retail, eateries, etc in the Hinjewadi Real Estate. There are some luxurious under-construction Bungalows in Hinjewadi with modern amenities and facilities for urban living. Bungalows can be a good investment with the skyrocketing property prices in Hinjewadi.
You can hire a professional real estate agent or property consultant to help you find your dream bungalow in your preferred budget. To get good deals on Bangalow, you can compare property prices of various locations on different real estate property website. You should invest in a new construction bungalow that is durable and provides all facilities needed for new-age living.