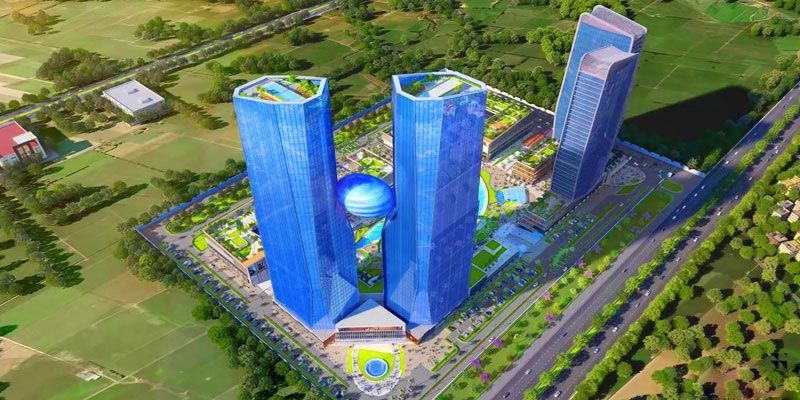 We all know that there is no better investment choice than buying an office space in the commercial property located in a prime location in order to benefit all the perks of investing in a property. As the office hubs are increasing in NCR, Noida is flooded with hi-tech designed office space projects, especially, Office Spaces for Sale in Sector 140A, Noida.
Topping the chart among the fastest growing cities in India, the city is within close propinquity to the National Capital, New Delhi. With the development of metro rail, the city stands well connected to almost the entire Delhi/NCR. But what makes Office Spaces for Sale in Sector 140A, Noida so special? Let's dive in and find out!
Cheaper prices: Sector 140A is that Noida which has all varieties of Office spaces and at much economical prices. If you ever visit this sector, you will be able to distinguish the purchase and prices of all the spaces as per your requirement. This insinuates that your gross expense of setting up your office in Sector 104A will be much lower than setting the same office in other commercial property in Noida. Another reason is that In Noida, the lifestyle and income of people is generally average, hence, the proportional expense is low.
Low Population: In comparison to other sectors in Noida, the population here is effectively low making the place apt for posh office spaces. And so does the traffic movement is. Imagine yourself in spending half of your life in commuting to office! Such a nightmare! This sector is well planned and has fewer crowds as compared to other parts of Noida, that ascertains peace of mind while working in your office.
Easy to rent: Everyone desires to work in peaceful and tranquil environment and if the place has good connectivity to metro and road transport then its an icing on the cake! These kind of location are highly in demand and can be instantly rented out, making it a good choice of long-term investment.
A pool of job seekers: A discreet but very strong point to emphasise for Office Spaces in Sector 140A, Noida is that Noida abodes renowned Universities, Schools and Colleges, making it a big pond of freshers and job seekers who are willing to start their career and grow with a minimal wage. This ascertains you will not face any dearth of employees if you are operating from here.
Easy loans: As the sector is a counted as a prime location in Noida. The loan sanctions are easy to get as such properties have meak chances of capital loss that in return ascertains that you have invested in a commercial property with good return.
Better transport connectivity: Having a great connectivity to major airways i.e. Hindon Airport and Jewar International Airport, along with Delhi-Mumbai Industrial Corridor, Yamuna Expressway, Eastern and Western Exterior arteries, FNG Expressway there is a higher chance of industrial growth in the coming times in this sector. Making it a marked location for office hubs. All in all, you get a fab office space in an urbanized location that too in a minimal expenditure. A dream come true…..!
Hence, the 'best-selling' statement is that in this crucial time of pandemic if you have a space acquired as Office Spaces for Sale in Sector 140A, Noida, you are owing a gold mine that will be loading your bank account with tons of profits as there are very bright chances of International companies and MNCs to shift there hubs from China to India's major industrial hubs and Sector 140A in Noida is surely holds a distinguished place in this list.