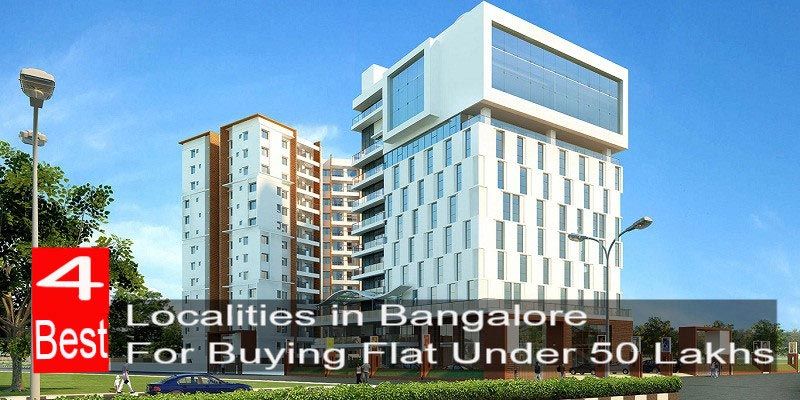 With the Indian government waiving off any taxes from the properties with a completion certificate, buying ready to move apartments in Bangalore is the smart investment move. While this is a recent move for the growing inclination towards possession-ready homes, there are many other reasons why property seekers are investing their money in ready to occupy flats. The buyers cannot just enjoy a huge tax capital gain but also protect themselves from inordinate delays. Moreover, the new-age property buyers in Bangalore can also rest assured that they are getting all the amenities planned by the builder/developer and you get what you see in a ready to move home. With the implementation of RERA and the new reforms in the GST regime, the builders are focusing more on completing the under-construction projects and clearing it out; thus increasing the inventory of such houses in Bangalore. If buying ready to occupy flats in Bangalore under 50 lakhs is on your mind, these localities might help you out.
Horamavu Agara: A fast developing suburb in the northern region of Bangalore, the Horamavu Agara locality is great for the professionals working in International Tech Park, Manyata Tech Park, or other employment hubs nearby. One can easily find a budget-friendly property in the Horamavu region at a starting point of Rs 40 lakhs only. With rapid growth on the cards, the mid-segment housing options at competitive prices in this locality are attracting buyers. The social infrastructure of the locality is also worth mentioning if you plan to buy a house here. It has a number of schools, hospitals, banks, supermarkets, etc. The connectivity is also seamless with its location on MG Road.
Whitefield: While Whitefield is one of the most posh and luxury residential colonies in the IT hub, those looking for 2 BHK ready to occupy flats in Bangalore under Rs 50 lakhs can also turn to this region. You can get a real estate agent or search on real estate portals to find a low-budget property in Whitefield costing around Rs 40 lakhs to Rs 48 lakhs for a 2 BHK flat. As a majority of the software companies are headquartered in Whitefield, the IT professionals and other HNWIs of Bangalore reside here. This village-turned-suburb-turned-city is attracting individuals from all corners of the country with its tech parks, world-class entertainment options, amazing social infrastructure, and top-notch ready to move in residential properties. If you want a luxury flat within 50 lakhs then the neighboring areas of Whitefield, i.e., KR Puram and Brookefield can also serve as good locality choices.
Electronic City: With metro connectivity on the cards, the Electronic City locality of Bengaluru is all set to witness a steep increase in its property prices. If you are planning to buy an affordable house within Rs 50 lakhs in a well-planned locality of this city, Electronic City is the locality you should turn to. The commercial and IT expansion in the Electronic City region has been on an upward swing ever since different software companies started shifting their headquarters here. It has reputed schools and hospitals like Vimalalaya Hospital, Saint Francis De Sales Public School, etc., which make it even more attractive in terms of proximity to the basic amenities.
Uttarahalli: Located in the south-eastern part of Bangalore, Uttarahalli is one of the most popular residential areas in Bangalore. It is strategically located in the most easy-to-access area in Bangalore and has seamless connectivity to all parts of the city. The fast rate at which this locality is developing has rendered it the title of the fastest growing suburb in Bangalore. The civic and social facilities like hospitals, schools, markets, banks, and other recreation options are within its close proximity. Moreover, its proximity to posh localities like Banashankari and JP Nagar is encouraging the builders to come up with new property projects. One can easily find 2 BHK ready to move flats in Bangalore in the Uttarahalli locality in the price bracket of Rs 35 lakhs to Rs 45 lakhs.
These are some of the top localities for buying an affordable house in Bangalore. Many builders and developers have completed their residential projects in these localities and are consolidating with other players in the industry to win trust and clear off the inventory. If property purchase is on your mind and your budget is no more than Rs 50 lakhs, these localities are a must check-out.