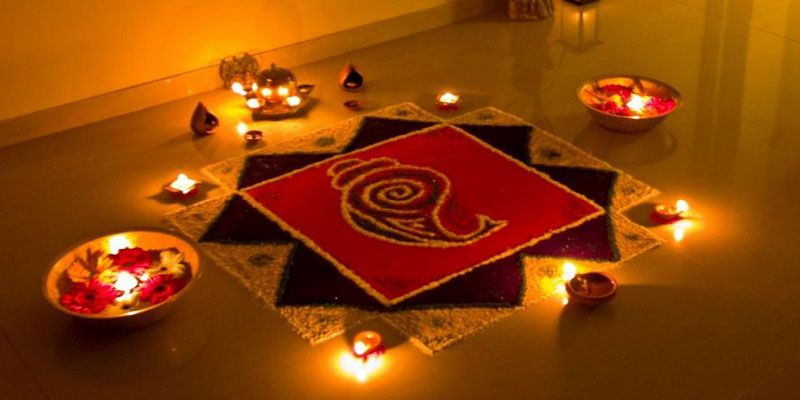 Diwali aka Deepawali is the biggest festivals of Hindus. This festival is enthusiastically celebrated by all Hindu communities. Glam of lights, crackers and sweets fill every heart with festivity. The importance of this festival can be easily experienced with the preparations for Diwali Pooja that start month before the festival date. Diwali is not just a single day celebration it is a bundle of emotions for Hindus as they consider this festival as a highly pious and auspicious time to purchase gold, vehicle or even buy flats and shops. The belief says that during Diwali, Goddess Laxmi, who is worshiped to attain prosperity and success, visits devotees' house and bless them with good luck and money. People try to please Maa Lakshmi in all possible ways so that coming year brings a lot of wealth for their family. Nowadays people also contact Vaastu Shastra Consultant to know right time and vaastu-friendly ways to do Diwali Pooja. A Vaastu Shastra Consultant shares the insights about right ways to do Diwali Pooja Preparation. We are also here with some important information about Diwali Pooja and some vaastu tips which will attract more good luck and happiness for you on festival of lights. Let's start with Date and time for Diwali Pooja.
Date and Diwali Poojan Muhurat
This year Diwali is falling on Wednesday, 07 November 2018. On this Diwali the Amavasya Tithi would begin on Tuesday 6 Nov 2018 at 22:27 and Amavasya Tithi would end on Wednesday 07 Nov 2018 at 21:31.
Let's have a look at Shubh Muhurat for Diwali Pooja 2018.
Pradosh Kaal Muhurat
Lakshmi Puja Muhurat would be from 17:57 to 19:53. This year Pradosh Kaal Muhurat for Lakshmi Puja would be for 1 Hour 55 Mins. Pradosh Kaal would be from 17:27 to 20:06.
Mahanishita Kaal Muhurat
This year there is no Lakshmi Puja Muhurta on Deepawali during Mahanishita Kaal.
Choghadiya Puja Muhurat
Choghadiya Muhurat is considered highly auspicious for Diwali Lakshmi Puja. The details of Choghadiya Muhurat for Diwali 2018 are:
Morning Muhurta (Labh Kaal, Amrit Kaal) from 06:41 to 09:23
Morning Muhurta (Shubh Kaal) from 10:44 to 12:05
Afternoon Muhurta (Char Kaal, Labh Kaal) from 14:46 to 17:28
Evening Muhurta (Shubh Kaal, Amrit Kaal, Char Kaal) from 19:07 to 21:31
Vaastu Tips for Deepwali 2018 Pooja Preparation
Vaastu Shastra Consultants can guide you on How to do Deepwali Pooja Preparation according to Vaastu Shastra. You can find best Vaastu experts on realestateIndia.com. To get a quick look at Vaastu Tips for Deepwali Pooja Preparation, read below:
Before Deepawali
Firstly, make your house clutter-free. Clean every nook and corner of your house. It is said that clean and decorated places attract Goddess Laxmi.
The furniture of house should be properly cleaned, and if possible change the setting of furniture according to Vaastu Shashta, to improve the positive energy flow in the house.
Throw old unused items, scrap and any broken crockery, showpiece etc.
Shop some decorative items, purchase gold or utensils on Dhanteras.
On Deepawali Day
Again clean your house properly, mop the floor with salt water or spray salt water in house.
Decorate the entrance with lights and rangoli, it pleases the goddess of wealth
Don't forget to adorn main entrance with Toran made by mango leaves and flowers.
Draw Laxmi's Foot prints
Create a pooja space, near your regular pooja place
Don't keep God Idols facing to entry of the house
Put swastika on the North/East walls but Never make swastika on floor
Don't leave any dark corner in your house, go light every place
Use diyas for pooja and decoration outside house
Avoid clashes or hot discussions, it is considered that Maa Laxmi likes peaceful and harmonious atmosphere
Deck up yourself and all the family members in bright color clothes
So these are some quick tips and essential information about Deepwali 2018. We hope that if you are unable to get a consultation from vaastu expert, these handy tips would help you to celebrate Diwali in vaastu friendly way. We wish you a very Happy and auspicious Diwali. May Goddess Laxmi bring a lot of good fortune and wealth for you.