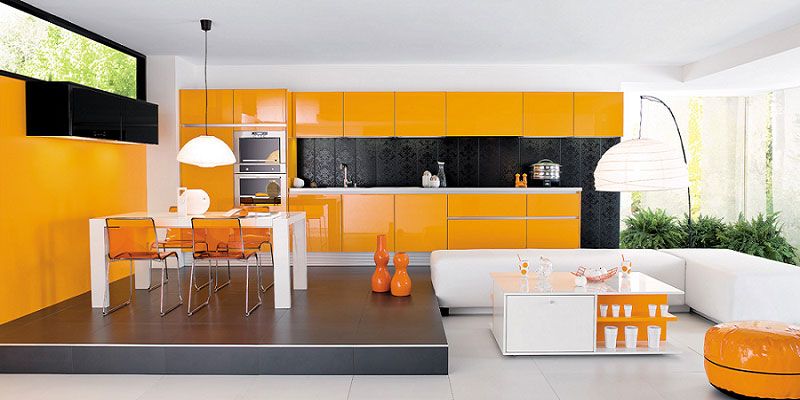 Colors, which have made this word more beautiful have a strong connection with the human life. Colors have a significant impact on the emotional and mental state of a person. Apart from visual like and dislike, colors also influence our mood and perspective. That is why the selection of colors for home has to be just perfect. Apart from the basic phenomena of warm colors and cool colors, the selection of colors for your home should be according to Vaastu Shastra rules. As per a renowned Vaastu Consultant in India, Vaastu is all about maintaining and channelizing positive energy in the house and colors have a significant role in that.  If you are a nature lover, you can see how nature has also created a fine balance of colors in different forms like landscape, flowers, and trees etc. To get that beauty and happiness in the house you need to understand the Vaastu rules to choose the right colors for different directions and sections of your house.
 
Let's see the right colors for different directions of the house
Right Colors For Main Directions
East Direction: White or light blue are the best colors for this direction of your house. This direction should have very light colored walls as this area should remain lighted for the wellbeing and prosperity of the house owner and his family.
West Direction: The direction is ruled by water element. The ideal color for this direction is all shade of blue. In addition, while can also be used for this direction.
North Direction: The ideal color for north rooms and walls are all shade of greens. This direction is ruled by mercury hence green color is an ideal choice for this direction.
South Direction: The south walls and rooms of a house can be painted with red and yellow. However, you can also use dark shades of corals to color this direction.
Right Colors For Sub Directions
North East Direction: This direction is ruled by lord Jupiter and water element, so all shade of light colors can be used in this direction. This place can be painted with green or white color as well.
South West Direction: The ideal colors to paint southwest walls and rooms are peach color, fawn color, mud color, and light brown. Do not use vibrant and bright shades to color the direction of the house.
South East Direction: This direction is associated with the fire element, known as Agni Tatva. Rule by a venue, the southeast direction of the house can be ideally painted with a shade of yellow, light orange and light pink etc.
North West Direction: This direction is ruled by air element so it has to be ideally kept in light grey, silver and white colors. This area represents openness hence colors that give open feel should be used for this direction.
Right Colors For Different Rooms in House
Right Colors for Master Bedroom: Vaastu Consultant in India say that the master bedroom should be made in the southwest direction of the house and the ideal colors for this sub direction are all light colors including pink, purple and light blue etc. You can also paint the master bedroom in light brown, white and its shades.
Right Colors for Kid's Bedroom: Kid's room needs energy as well as colors that help them to concentrate. You should never use red color or dark blue color for kid's room. The ideal colors for kid's bedroom are light green and all shades of light yellow.
Right Colors for Living Room: A living room is an area where you welcome the guest and also spend some quality time with your family. The direction of the living room should be considered before choosing the ideal color to paint it however as per Vaastu your living area should be serene but not boring. So a smart mix and match of light walls with a tinge of bright color stripe or art can be a good deal as well.
Right Colors for Pooja/Prayer Room: Ideally, the Pooja room is made in the northeast part of the house and the best color for this sub direction are yellow, green and blue. For Pooja room, you can also choose a cream or very light peach color.
Right Colors for Kitchen: As per Vastu Shastra kitchen should be made in the southeast direction of the house as this direction is ruled by fire element, so you can use deep orange and red color in this area. However if you wish to keep it different you can choose from rose pink, silver or chocolate color as well.
Right Colors for Bathroom & Toilet: Bathrooms and toilets are the most private place of the house and use of light yellow, light blue or white are best to paint this area. Do not use dark colors to paint the bathroom and toilets.
Right Colors for Main Door/Entrance: This is the face of your house and definitely one of the most important parts of your house. As per Vaastu, this is the main area from where all kinds of good and bad energies enter your house, so you should be extra careful in choosing the right color for your entrance area. You need to choose the right color for entrance in considering the direction it is located in however light shades and white colors are most suitable for this area.
Right Colors for Staircase: This section should be painted with light colors only and the use of dark color should be avoided to paint the staircase. You should never use red or black color to paint this area. Use of white color is ideal to paint this area.
Right Colors for Car Parking or Garage: This area is frequently used and shouldn't be ignored while choosing the best colors for your house painting. For Car Parking or Garage of your house, you can choose from colors like yellow, cream, fawn or while. These colors are ideal to pain your car parking area and garage.
Colors have a great impact on a person's mood which ultimately impact relationships. If you miss out to color the different rooms as per Vaastu norms to choose colors for your house, you may invite troubles like the imbalance of energies and blockage in positive energy flow. Choosing ideal colors would have a positive impact on the family relationships and health and happiness of the family member as well. To get more insights from Vaastu Consultant in India, keep visiting this page.