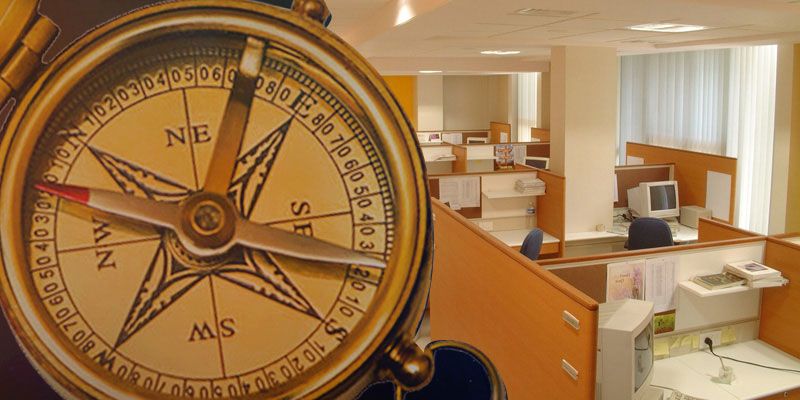 Your office space is the work location where you sit and do business. This is why most people want to make sure that their office areas should get designed according to the guidelines of Vastu Shastra. They believe it will definitely earn fortune and luck to their cash flowing in business. The Vastu-believers think it to be a scientific way that can really play a significant influence on whatever they do in the office space. To be more precise, a proper following of Vastu guidelines can bring complete well-being and economic prosperity at the office space.
In this article, we dig into some important points regarding Vastu Shastra guidelines and following which you can positively accumulate some benefits. You can even contact a recognized Vastu consultant in India who can offer some proficient help in this matter.
Ø Office entrance
North/ north-east/ north-west – office entrance
This is to ensure positivity into space and to avoid auspiciousness. Lord of wealth holds the North direction.
Ø Staircases –
South/ south-west – these directions are good for building staircases of the office building. No staircases should be placed at the central location to avoid the financial drain. Plants make a good choice to be kept at the corners of the steps.
Ø Interiors & decors
North – put a Kuber Yantra or a mirror to ensure the economic health
North-east – do not pile the finished products in this direction
North-west – pile up the products in this direction to confirm prosperity
Ø Wall colors –
Your office walls should be painted with bright vibrant colors to spread positivity in the atmosphere. It wipes out negative vibes from the place and helps in reflecting light all around. A few examples are below –
Blue – brings cheerful aura and positive vibes to the place.
Green – different shades of green can be used which are good for professional meetings and stronger business relationships. It symbolizes harmony.
White – east, south-east, north-east, and north-west walls can be painted with cream or white color.
Pink/ Red – if all the interior walls cannot be painted with pink or red color, southern walls must include this color.
Ø Reception area
East/ north-east – this direction is perfect for making the reception area, and the receptionist must be seated facing east/ north.
The reception area may include green colored jade or French lavender flowers.
Ø Seating arrangement
Department wise sitting plan –
North/ north-east/ east facing – entrepreneurs
North-east facing– sales/ marketing executives
South-east corner and north-east facing - accountants
Sitting plan for the owners and managers –
Cabin in the west and north-east facing – leadership role holders
East/ north facing having a solid wall behind – business owners
South-west/ south/ west direction of the office – managers/ directors
Employees –
North/ east facing – all employees
Ø Office desk and cabin –
How to decorate the cabin?
Inside the cabin, a mountain scenery makes a good choice to be hanged on the wall.
The desk may contain a turquoise pyramid.
Books and papers should be locked in the drawers and not on the desk.
No broken stationery in the place.
Ø Pantry –
South-east – this direction is perfect for placing the pantry or canteen of the office. The choice of color for the walls may be green or blue.
Ø Washrooms –
North-west/ west - According to Vastu Shastra, washrooms include negative energy. So, perfect placement is mandatory. Vastu says, the north-west or west direction is best and a big NO for east/ south-east/ north-east direction for placing it.
Hiring a professional Vastu consultant in India you can get various useful tips and suggestions to achieve more financial benefits by utilizing Vastu in constructing and designing your office space.