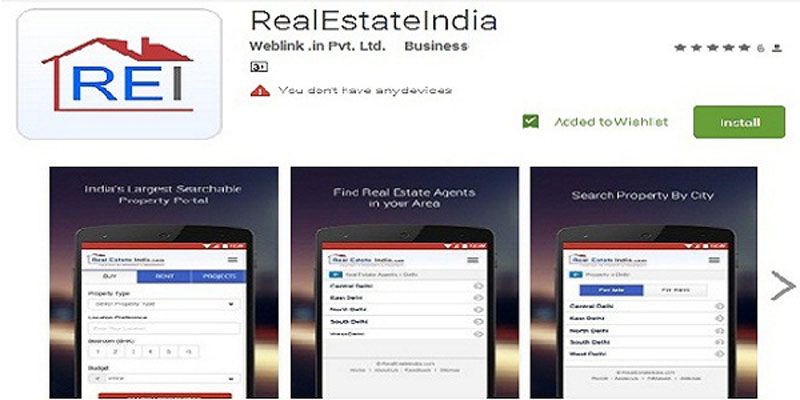 RealEstateIndia.com finally revealed its iOS and Android mobile applications to present a whole range of advanced property search options to the mobile users on the go. From the cutting-edge look and feel to the advanced features like Augmented Realty, GPS, Smart Alerts, etc. The applications are set to revolutionize the user experience on RealEstateIndia.com. By bringing their feature rich apps, the team's main goal is to expand the arriving traffic on the page with providing a range of features that make it easy for a user to Buy/Sell/rent his property at the ease of few taps on the mobile screen.
Features Of Realestataeindia Mobile Applications :
Visual Search
The applications offer, a new Visual Search feature to the users that enables them to put their mobile phone in a particular direction and get all property options that are available in the area on the basis of the radius defined by the user. Along with the property options, the application provides you full details of the property including project details, pricing, amenities, and real-time progress, etc.
Smart Alerts
In case you are looking for a type of property that's not available in the area you want, the smart alert feature saves your requirement and gives you alerts as soon as the similar property type is available in the area you were looking it in.
Know The Emerging Destinations
The applications notify you about the property prices in the upcoming real estate hubs. Also, there is a separate tab that features the most sought after projects and property options in the area you are searching property in. You can also bookmark your searches and see them later on your mobile phone whenever you get time.
Team Expectations
The team is very hopeful with the launch of the mobile applications and is expecting an incremental growth of 5-10 percent/month in the coming days. The Applications are available for all the android and apple users for free and could be sourced from Google play or iTunes easily.
With the constant innovations in the technology and growing demands of the users, it is important to develop applications that surpass what your competitors offer in every way. The new RealEstateIndia Applications will take the property search experience of a mobile user to next level and offer him rich UX along with a myriad of features that would simplify his property search to a greater extent.