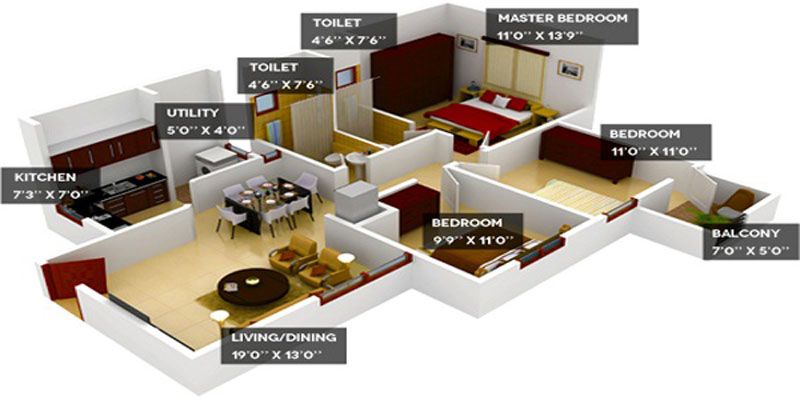 Buying property or decorating your place as per Vaastu is becoming more and more popular these days. By making few adjustments according to Vaastu, you can get solution for various problems. Following vaastu can bring good health and financial prospects to your life. Being vaastu conscious while purchasing a property will save you from vaastu imbalances in future. There are people who have strong belief in vaastu and they even decline making investment in property with vaastu imbalances.
Gradient of a plot has a great significance in vaastu and it should be given utmost importance while purchasing a plot. If the plot you are purchasing is a slope then its slope should be lower on east and north side, whereas the side facing south west corner should be higher. The lowest slope of the plot should remain at the north-east corner or between the two corners. South, southeast, west, north, northwest and east are the ideal situations for the lowest order.
If you wish to cash on lots of opportunities then the plot you are buying should have higher west and lower east position. This combination not only improves your chances of educational improvements but also ensures good health of family members. The plot with comparatively higher south than north is suitable for women and also ensures health benefits for entire family.
The ground level of plot should also be considered along with slopes and gradients. An underground water tank at the southwest can be effective. In comparison to the east, the west side should be higher and heavier and same for the north against south. Buildings constructed with higher east and lower west often have plumbers pipe or bamboo on the west for making that side higher.
The height of a structure plays a crucial rule and the east or north should never be higher than the west and south. Always keep in mind that the southwest direction is ruled by fire element, so no water related activity should be done in that direction. Avoid installing bore well or water tank in the southeast direction.
There are some conditions, which do not remain same with the plot, or even if they do, there is a possibility of other aspects, which doesn't come under vaastu. You can achieve the required balance in such situations by raising the one side of your property and make it vaastu compliant. Vaastu can actually help you in reducing the chances of suffering from odd situations if you follow the basic rules while buying a property.