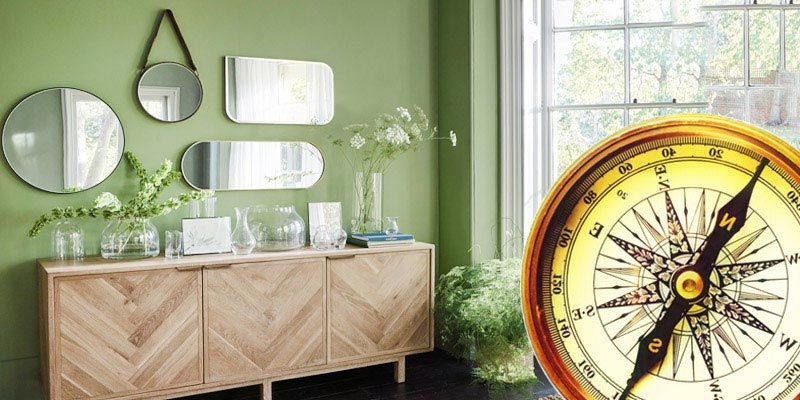 Vastu is considered an important factor while deciding on the purchase of property in Indian. Not only people refuse to buy the property that does not follow Vastu shastra but also considers it as bad luck to reside in such places.
Vastu shastra is very complex and requires the help of an expert to fully reap its benefits. However, by following some common tips of Vastu, we can attract positivity and wealth for our home.
Among different components of Vastu shastra, the mirrors also play a significant role in attracting wealth as well as health status. These relatively small objects can deteriorate and stagnate your home energy.
Therefore, placing your mirror at the right position as well as direction is very vital for a positive influence. Listed below are a few tips to help you properly place a mirror to help you gain both wealth and health.
Placement According To Different Rooms
Different rooms at our house are used for different purposes. Each room has a significant role to play in our daily life. Therefore the placement of the mirror is a bit different following the purpose of the room.
Bathroom - While placing a mirror in the bathroom make sure to light it sufficiently as placing a mirror in dark is considered ill –luck. Placing the mirror on the north or east of the bathroom wall is considered good luck.
Bedroom - Mirror should be avoided in this room.
Dressing room – For positive effect place the mirror within 4 feet above the room ground.
Shape And Size Of The Mirror
Apart from the different placement of the mirror in separate rooms the shapes of the mirror are also important factors to weigh in. The mirrors that are shaped rectangle or square are considered ideal for use while the oval and round mirror is not much-preferred choice in Vastu. Along with that usage of large mirror in dressing table that is used to look at oneself during early morning helps increase positivity.
Position For Placing A Mirror
South wall brings negative energies, so it is advisable not to hang mirrors on ceilings or south walls. According to Vastu southeast is the direction for fire and hanging mirrors may lead to quarrels. Therefore it is desirable to avoid fixing the mirror in that direction.
Mirrors should be avoided in bedrooms for good health and soundless sleep. According to Vastu, if you are placing a mirror in the bedroom it should not face the bed. The mirror should also not face north or east as it may reflect away positive energy from such direction.
Tips For Other Areas
A discarded or broken mirror should not be kept in the bedroom. As it will be a source of a hindrance to the entire positive environment. Window panes and glass doors with mirrors should be covered with curtains to avoid any ill effects.
Mirrors have the power to double your prosperity and health, so make sure to select the right walls before hanging them in your house. Avoid buying oval or other irregular shaped mirrors for your home.
Vastu shastra is based on different energies like solar energy from the sun, a cosmic energy, lunar energy, thermal energy, magnetic energy, light energy, wind energy. These energies are used to balance and enhance peace, prosperity, and success for your living environment.
Numerous Vastu Shastra Services providers offer you great services and help you to construct your dream home as per Vastu principles that will bring happiness in your life. You can browse different online websites to get commendable Vastu services at the best price.