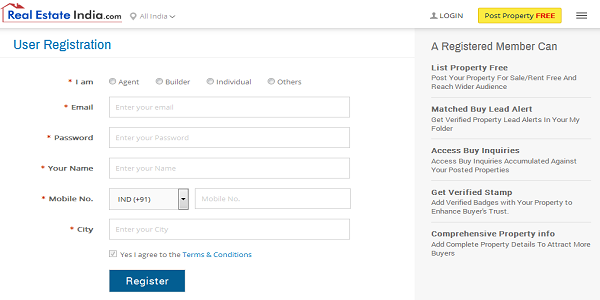 Dealing in property has become a lot easier with the property portals on the web providing a huge database of properties, dealers and buyers all at one place. One of the most popular real estate portals- Realestateindia.com is a one-stop destination for all individuals and businesses interested in Buying, Selling, Renting all types of property. The portal has an excellent classification of the various property segments and easy searching facility. Becoming a member at Realestateindia.com is Easy & absolutely Free and with this registration you can avail many benefits like property searching, posting property buy and sell offers and many more. This write-up will teach you on how to become a registered member to avail the best services and solutions customized to your needs.
Step 1: First of all, type the URL of the website i.e. www.realestateindia.com in the address bar of the browser window.
Step 2: After the home page opens, look at the top right to see a Join Now' link and click on it. With this, you will be directed to the Registration Form.
Step 3: Four options are listed on the form viz. Individual, Broker/Agent, Builder/Promoter & Others. You can choose any one of these options as per your profile.
Case I-If you are an individual
Step 4: Select the radio button for Individual and proceed.
Step 5: Fill in your email ID in the box provided. Make sure you fill it correctly because all the responses and answers to your enquiries will be sent on this email id.
Step 6: Write a unique password, which is not easy to guess. Don't write something simple like password' or 123456'.
Step 7: Make sure you fill all the details, especially in the fields market with a star because these are mandatory.
Step 8: Enter either a phone or mobile number or both but make sure you enter a number on which you are easily available because this is the number on which your buyers or sellers will call and their contact details will be sent to u through SMS.
Step 9: Next, you will see a captcha' with a combination of letters and alphabets. This is the verification code and you need to fill the same in the field provided. Don't worry; this is just to check that the form is being submitted by a human and not through some automated program.
Step 10: Lastly, click to agree that you have read the terms and conditions and agree to abide by them. Now your job is done.
Case II- If you are a broker, builder or have any other profile
Step 11: Click the requisite radio button. The registration form is the same as discussed earlier with just this additional section. Proceed as follows:
Step 12: Click your reason for joining REI i.e. to Buy, Sell or Rent and you can also click more than one option. Also, show the area in which you deal.
Step 13: A business with a website is bound to give you an extra edge over the one without website. If you have one just enter its URL
Step 14: Write the company name and company profile. This is mandatory.
Step 15: Now click to agree that you abide by the terms and conditions and click on the Register' button.
That's it! With this click you will be connected to the network of Realestateindia.com. Next time when you visit Realestateindia.com, just click the member login' link on the home page and enter your login id i.e. your email ID a nd the password and start availing the best services & customized solutions for all property or real estate related matters. For details, visit; https://www.youtube.com/watch?v=FNwZrYwSlmY